Implications from the debate over the Renminbi. And the Won. And the…
Yesterday, the Treasury released its report on currency manipulation, and concluded that China was not manipulating the value of the Renminbi. Brad Setser and Steve Roach, among others, have covered the issue more thoroughly than I could, so let me step back from the high-frequency policy implications, and discuss how this debate fits into the broader economic discourse.


I've been reading an interesting monograph by Hans Genberg, Robert McCauley, Yung Chul Park and Avinash Persaud, entitled Official reserves and currency management in Asia (CEPR, Sept. 2005). Since it's relatively long (over 120 pages) I can't discuss all the points (including their assertion that current account surpluses do not account for most of East Asian reserve accumulation). However, one particularly fascinating observation is that reserve diversification on the part of China (or any other East Asian country) is equivalent to sterilized intervention by some other central bank elsewhere. And the US dollar comprise the single largest currency in central bank holdings (although the exact proportion is unknown, as indicated by IMF figures)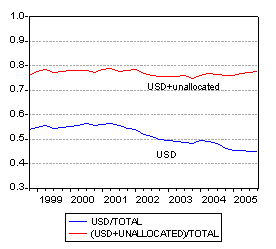 Figure 1: Dollar share of total reserves and Dollar plus unallocated share of total reserves. Source:
IMF COFER database, March 31, 2006
.

Why is this an important point? Maybe it's only important to open economy macroeconomists, but the view that diversification is important stands in stark contrast to the implications from a large and long-standing literature that concludes that sterilized intervention — operating via what is called the "portfolio balance" approach — is ineffective in affecting exchange rate values.


The portfolio balance model of the risk premium, associated with the names of William Branson, Dale Henderson, Pentti Kouri and many others, asserts that the return on dollar denominated assets (vis a vis euro denominated or yen denominated assets) must rise as the supply of dollar denominated assets increases relative to other assets. We use this sort of analysis in all sorts of domestic situations (think money vs. bonds vs. equities). In the international sphere, however, it has been hard to find this effect (e.g., Frankel and Engel, Journal of International Economics, 1984). Hence, in the modeling of exchange rates and interest rates, it has often been assumed that stocks of government bonds don't matter for relative returns, expressed in a common currency. (Or, given the amounts that central banks typically intervene with, the effects are too small to be detected).

How is this related to sterilized intervention? When intervention occurs (the Treasury instructs the NY Fed's trading desk to buy or sell foreign currency), the Fed undertakes actions to keep the money supply constant. Hence, the stock of Treasury bonds outstanding changes. This can only affect the value of the dollar (and the common currency relative return on dollar assets versus foreign assets) if the porfolio balance effect is absent present (Note: I ignore any signalling effects that might occur as a result of intervention, as suggested by Frankel and Dominguez, 1993). In a mean-variance optimization framework, the portfolio balance effect arises whenever government bonds are not perfect substitutes, or when agents are risk averse.


Now, back to China, and the other East Asian central banks. Concerns that they would diversify reserves composition away from dollar assets should only matter if this portfolio balance effect is relevant. The widespread belief the reserve diversification matters thus marks a substantive change in how many economists view the world. In some respects, we may soon have a chance to test out an economic theory which until now has had little empirical support (the Japanese interventions of 2003-04 are somewhat supportive of the portfolio balance effect, but not conclusively so; for more, see Chaboud and Owen (2005) and Hutchison and Fatum (2003) for differing views). So when we start hearing of central banks in East Asia diversifying, keep close watch on dollar interest rates and the dollar. (Of course, to make this a clean experiment, it has to be done holding the pace of total reserve accumulation, irrespective of composition, constant.)

Technorati Tags: portfolio balance,
reserve accumulation,
renminbi,
foreign exchange intervention