This week's data paint a picture of slowing growth.
Autos. GM continues to bleed, but otherwise auto sales overall do not show further deterioration from April's levels. Comparing May 2006 with the previous year, GM's light-vehicle sales were down 12.5%, while Ford lost 2.0% and DaimlerChrysler 8.4%. On the other hand, Toyota gained 17.0% and Honda 16.1%.
The moderate move away from SUVs continues at what I would describe as a healthy pace rather than something that will create severe dislocations. I'm expecting autos to be a drag on 2006:Q2 GDP growth, but nothing like the dominating factor that they were for 2005:Q4.
Employment. The Bureau of Labor Statistics reported that only 75,000 new jobs were added to American payrolls in May, a figure that Barry Ritholtz, never at a loss for words, observes "stunk the joint up." And yet the BLS announced at the same time that the unemployment rate fell to 4.6%, its lowest value in five years.
Data source: BLS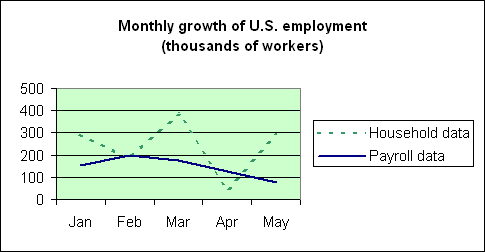 The divergent impression of the two statistics reflects in part the very different indications that are currently being given by the BLS survey of establishment payrolls and the Current Population Survey, which interviews a sample of individual households as to their current employment status. The household survey claims that 288,000 net new jobs were created in May, with an average rate of 240,000 per month so far this year, in contrast to the 75,000 May figure (and 146,000 monthly average for 2006) from the payroll survey. Some economists are inclined to disregard the household survey altogether. Personally, I put some weight on it, and infer that the employment situation may not be quite as bad as the payroll data suggest. Still, I take away a clear indication of a slowing growth rate. Economic Policy Institute has more.
Housing. The Fed wanted a slowdown in housing, and now it seems to be here. Perhaps they'll get what they wanted, and no more. The Big Picture has a couple of interesting graphs, showing a broad trend down in home sales,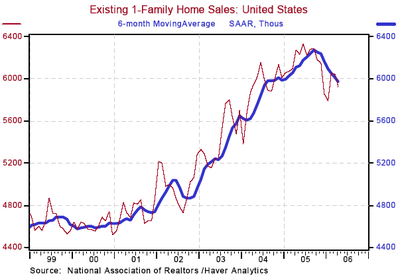 and attendant accumulation of inventory of houses intended to be sold: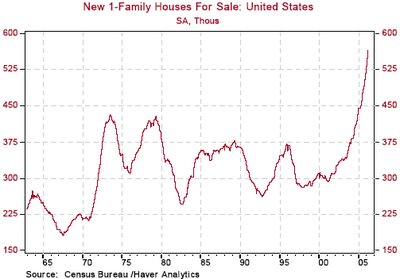 My conclusion? GDP 2006:Q2 growth will surely be weaker than Q1. But so far it's looking like slower growth rather than an actual decline.
---
Technorati Tags: employment,
autos,
housing,
macroeconomics