Or, what if George W. Bush had lived in 480 BCE; would we all be speaking Persian?
In discussing the decisive Greek naval victory of Salamis over the Persians in 480 BCE, Victor Davis Hanson observes:
"…the Athenian fleet of some 250 ships was recently constructed and in excellent shappe — entirely due to the persistence of Themistocles' statesmanship two years ealier. In a heated and polarizing debate, he had previously convinced the Athenian assembly
not to dole out the returns from their newly opened Attic silver
mines in Laurium to individual citizens but rather to use that income to build ships and train seamen to protect the new democracy from either Greek or Persian attack. His prescient efforts in 482 had ensured that the Athenians now had a newly constructed armada right off its shores." (p30, Robert Cowley, "What If…?", Berkeley, 1999).

Now consider these paragraphs from a recently released CBO report:

"Since 2000, the Navy has spent an average of about $43 billion a year to buy and operate its fleet of 285 battle force ships and 4,000 aircraft. In the new 30-year shipbuilding plan that the Navy released in February, senior officials argue that the service needs 313
ships to perform all of the tasks assigned to it. Increasing
and modernizing ships and aircraft as implied by that plan would cost an average of about $53 billion annually over the next three decades, the Congressional Budget Office (CBO) estimates. (Those past and projected cost figures, like the others in this analysis, are in 2007
dollars.)

The Navy's need for additional resources to fund its modernization
plan is likely to coincide with myriad other pressures on the federal budget — from elsewhere in the military, from Social Security and Medicare, and from the need to pay interest on federal debt [italics added–mdc], to name a few. If the Navy ends up not receiving any increases in funding other than for inflation, how big and how capable can the fleet be in future years?"

The report continues:

"Buying and operating all of the ships listed in the 2006 shipbuilding plan and all of the aircraft implied by that plan would cost an average of about $53 billion a year for the next three decades, CBO estimates. That amount is 23 percent higher than the Navy's average annual spending on ships and aircraft between 2000 and 2005. Even such an increase, however, would be insufficient to keep the battle force fleet at the Navy's goal of 313 ships indefinitely."

The shortfalls in key categories (subs, major surface combatants) are shown in the figure below: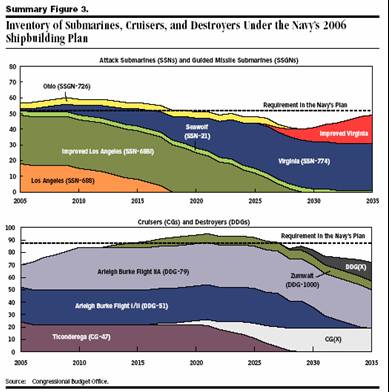 Summary Figure 3 from
CBO, "Options for the Navy's Future Fleet," May 2006
.

And for those who wonder if Salamis is relevant in an age of stealth fighters and ICBMs:

"Above all others, the specific potential threat that concerns much of the Navy's leadership and many Members of Congress is a new naval competition with the People's Republic of China. The future relationship between China and the United States remains uncertain. However, China is investing substantial resources in improving its military capabilities — especially those that would make it harder for U.S. forces to come to the aid of Taiwan in the event of a military confrontation with the mainland. In particular, observers of China's naval programs note with concern that country's investments in
quiet conventional and nuclear-powered submarines, antiship cruise missiles based on land as well as at sea, and tactical and theater ballistic missiles. Such observers argue that attempting to counter those systems should be of paramount importance in determining the naval capabilities that the United States needs to pursue in the future." (CBO, p. 4)

And yet, CEA Chair Ed Lazear stated on 2 June:

Recently, Congress voted to extend the rate cuts on dividends and capital gains that were enacted by the Jobs and Growth Tax Relief Reconciliation Act of 2003. That was very good news. The President was delighted to sign the tax reconciliation bill making those lower tax rates effective through 2010.

A salutory tale for those who themselves forget George Santayana's most famous aphorism.

Technorati Tags: budget deficits,
tax cuts,
navy,
defense expenditures,
Salamis,
George Santayana, and
Themistocles