There has been much talk about how the deficit problem has been licked, as tax receipts surge. Is (Lafferian) supply-side economics right? Are we in a new era of surging tax receipts for the forseeable future? The short answers are "no" and "no".


In several news reports, the surge in tax receipts has been forwarded as remarkable. (See quotes of the President here). But it is important to note, as mentioned in one article, that tax receipts have become increasingly volatile in recent years. Figure 1 shows a graph of total tax revenues and corporate tax revenues as a share of U.S. GDP. One thing that is apparent is the large shifts in receipts in recent years.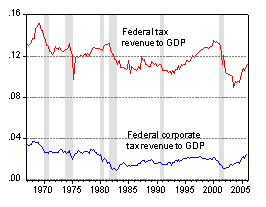 Figure 1:
Total Federal tax revenues and corporate tax revenues (ex. Federal Reserve System), normalized by GDP. Source: BEA, June 29 NIPA release, and author's calculations.
To examine more formally whether the recent tax receipt surge is something that is out of the ordinary, given previous statistical tendencies, I estimate an GARCH model for total tax receipts to GDP for the 1976q1-06q1 period. The primary equation includes a lagged variable and a trend term. The secondary equation for conditional heteroskedasticity is one that allows for an GARCH(1,1) process. I plot the conditional standard deviation in Figure 2.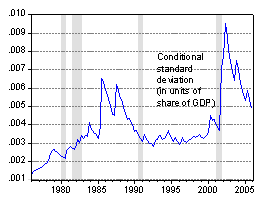 Figure 2:
Conditional standard deviation of total Federal tax revenues to GDP. Source: author's calculations.
This graph indicates that the volatility (measured by autoregressive conditional heteroskedasticity) has indeed risen in recent years. What to make of the surge in tax receipts? Using the autoregressive specification, one finds that the 2006q1 underestimate was 0.0035 — much less than the conditional standard deviation of 0.006. This suggests to me that the surges are not statistically significant.

One might argue that the problem is with my model of tax receipts to GDP. I also checked to see if regressing this variable on a cyclical factor (namely a deviation of the log real GDP from the HP-filtered series as a proxy for the business cycle), along with a lagged dependent variable yielded a different result. Qualitatitvely, the results are the same. The underprediction is 0.002 in 2006q1, with the corresponding conditional standard deviation at 0.004. (It is relatively easy to obtain a similar specification that says that 2006q1 receipts to GDP are below where they should be.) Hence, I conclude it's too early to break out the champagne.

Additional point: the 2005 surge is partly a consequence of the Homeland Reinvestment Act, which reduced the statutory corporate tax rate on repatriated earnings from 35% to 3.5%. This is a one
shot effect. So I wonder about the persistence of this surge.

Additional point 2: As I watch the President, I am reminded that none of these developments change the long term prognosis for the budget deficit. If entitlement spending (including the massive entitlement spending increase pushed by the Bush Administration, entitled Medicare D) continue as is, the 2001 and 2003 tax cuts made permanent (and not just extended to FY2010), and discretionary spending grows more in line with historical norms (and even if less than the rate of growth during the past six years), then the deficit will expand as a share of GDP in the out years.
Late addition for post below: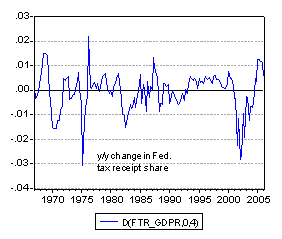 Figure 3:
Year on year change in percentage point share of Federal tax receipts in GDP. Source: BEA, June 29 NIPA release, and author's calculations.
Technorati Tags: href="http://www.technorati.com/tags/budget+deficits">budget deficits,
tax receipts,
corporate tax receipts, ARCH
and
tax cuts