While the events in Lebanon and Gaza have pushed Iraq off center stage, Iraq and Afghanistan remain the largest fiscal drains on the U.S. Treasury and the military's ability to respond to other strategic challenges. In this light, GAO Comptroller David Walker's testimony on Tuesday [pdf] is both illuminating and depressing. From the Summary:
Since the beginning of GWOT in 2001, Congress has appropriated about $430 billion to DOD and other U.S. government agencies for military and diplomatic efforts in support of GWOT. This funding has been provided through regular appropriations as well as supplemental appropriations, which are provided outside of the normal budget process. Since September 2001, DOD has received about $386 billion for GWOT military operations, including funding for homeland defense through Operation Noble Eagle. This $386 billion includes "bridge" funding in fiscal years 2005 and 2006 to continue GWOT operations until supplemental appropriations could be enacted. In addition, U.S. government agencies, including the Department of State (State), DOD, and the United States Agency for International Development (USAID), have received about $44 billion since 2001 to fund reconstruction and stabilization programs in Iraq ($34.5 billion) and Afghanistan ($9 billion) with an additional $400 million for the Commanders' Emergency Response Program in Iraq and Afghanistan. For fiscal year 2007, DOD has requested another $50 billion in bridge funding for military operations and other U.S. government agencies have requested $771 million for reconstruction and stabilization activities.

Since 2001, U.S. government agencies have reported hundreds of billions of dollars in costs associated with GWOT; however, we have previously reported on our concerns with DOD's data reliability and cost reporting. DOD has reported incremental costs of about $273 billion for overseas GWOT-related activities through April 2006. This amount includes almost $215 billion for operations in Iraq and almost $58 billion for operations in Afghanistan, the Horn of Africa, the Philippines, and elsewhere. These reported costs do not include obligations for intelligence and the Army's modular force transformation. The difference between the amount appropriated and DOD's reported costs through April 2006 can generally be attributed to unreported costs for intelligence and Army modular force transformation, as well as funding for procurement, military construction, and research, development, test, and evaluation, which can be obligated over multiple years, that has not yet been obligated. However, our prior work has found numerous problems with DOD's processes for recording and reporting costs for GWOT, including long-standing deficiencies in DOD's financial management systems and business processes, the use of estimates instead of actual costs, and the lack of adequate supporting documentation. For example, we found inadvertent double counting in a portion of DOD's reported costs amounting to almost $1.8 billion from November 2004 through April 2005. Furthermore, DOD's reported costs for GWOT operations overseas have grown steadily in each fiscal year through fiscal year 2005 — from about $105 million in fiscal year 2001, to begin preparation for operations in Afghanistan, to about $81.5 billion in fiscal year 2005. With this steady growth, it is important to ensure that all commands seek to control costs to the extent possible. In addition to reported costs for military operations, about $23 billion has been obligated for Iraqi reconstruction and stabilization, as of January 2006. However, U.S. government agencies, other than DOD, do not formally track all GWOT costs. This, along with DOD's cost reliability and reporting problems, make it difficult for the decision makers to reliably know how much the war is costing, to determine how appropriated funds are being spent, and to use historical data to predict future trends. (emphasis added –mdc)
[duplicate text deleted]

By the way, my use of the term "GWOT" does in no way mean that I agree with the appropriatness of the term.


Now for the update on Iraq (expenditures on which comprise a portion of the GWOT expenditures). A month ago, I wrote a post on some Iraq metrics. Below is the updated figure for U.S. casualties.

Figure 1: Cumulative fatalities and wounded in Iraq, up to end-June. Source:
Iraq Coalition Casualities
, accessed 20 July 2006.

I was admonished by several individuals for not taking into account Iraqi civilian casualties. As is well known, accurate counts of these casualties is inherently difficult. I have relied upon the work of O'Hanlon and Kamons at Brookings' Saban Center, as reported in the 13 July 2006 edition of the Iraq Index [pdf]: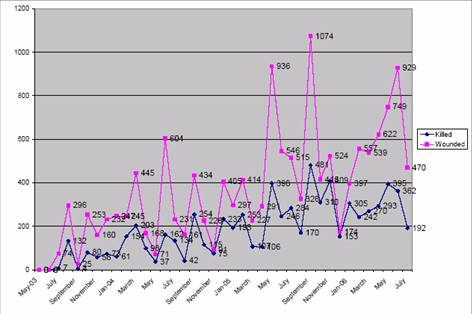 Figure 2: Fatalities and wounded reported by press sources up to July 12. Source: Iraq Index [pdf].



Caution: Since the figures are as of July 12, the apparent decline in deaths and wounded for July should not necessarily be taken as an improvement in the situation. More likely, it would be appropriate to multiply the reported figure by at least two to bring the adjust the figure up to a monthly rate (this is a conservative adjustment as there are more than 24 days in July, and additional reports trail in after the end of the month).


Late Addition (7/22/06)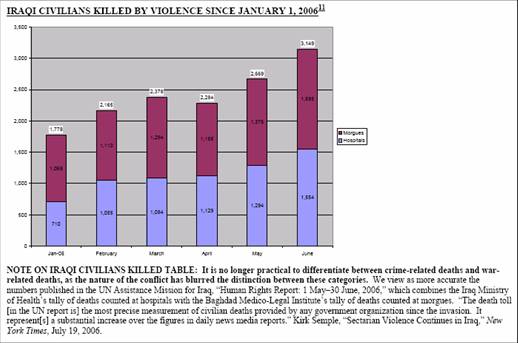 Figure 3: Total civilian casualties, compiled by UN Assistance Mission in Iraq. Source: Iraq Index [pdf].

Technorati Tags: href="http://www.technorati.com/tags/Global+War+on+Terror">Global War on Terror,
GWOT,
casualties,
defense expenditures, casualties.