Do we need to subsidize ethanol production? Does it matter if we are subsidizing the input (i.e., corn)? This is not a rhetorical question.
I found this chart in the 2006 Economic Report of the President quite interesting. It indicates that with WTI at between $40 and $60 per barrel, ethanol is profitable without subsidies.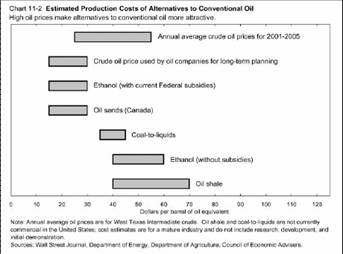 Chart 11-2 from
2006 Economic Report of the President

The description is a little sketchy in the ERP, but it appears that the ethanol production costs are for mainly corn-derived ethanol, and for a "mature" industry. The latter I presume pertains to when economies of scale are exploited.

With oil prices now around $75 per barrel, and Dec. 2007 futures at about $77 (see INO), it would seem the case for subsidies and protection is severely diminished. However, EIA June forecasts are hovering about $60 until 2007q4, so the issue is in some doubt, given the uncertainty surrounding future prices and the fact that the industry probably has not fully attained the assumed economies of scale.

The rejoinder of course is that the government should not intervene in any case — let the magic of the marketplace work. I would argue that the price of oil does not fully reflect the costs associated with the costs of using oil (in specific terms, the marginal social cost does not equal the marginal social benefit). A related approach is to view the marginal private cost of producing of ethanol as exceeding the marginal social cost; hence subsidies might be appropriate even if capital markets were able to account for the eventual attainment of efficient scale of production.


A complication is the fact that the feedstock for ethanol is also subsidized. It is unclear whether the calculations in the chart incorporate this additional distortion, although it would appear not from the wording of the text. According to CBO ("Agriculture," Budget Options, 2006), FY2005 mandatory expenditures in agriculture were estimated to be $25 billion. To quote: "Farm revenue-support programs, which extend through 2007 under the Farm Security and Rural Investment Act of 2002, account for most of the mandatory spending in function 350." It's unclear whether corn prices are higher or lower than the distortion-free counterfactual, given the price supports and subsidies (references anybody?). The weflare implications are also complicated, then. What looks, in a partial equilibrium context, like a good expenditure might look less desireable taking into account general equilibrium factors.

Technorati Tags: href="http://www.technorati.com/tags/energy+dependence">energy dependence, href="http://www.technorati.com/tags/ethanol+subsidies">ethanol subsidies, and
oil prices