How significant is the housing slowdown? Answering requires separating the seasonal from the cyclical factors.
Seasonal adjustment is an effort to distinguish between the changes that are typically expected at a particular time each year from those changes that may have broader economic significance. When one simply wants a quick look at the numbers for an impression of what is going on, the seasonally adjusted numbers are almost always more informative. However, any automatic procedure for removing seasonal factors, such as the X-12-ARIMA algorithm used by the Census Bureau, is inherently problematic, particularly for series that can exhibit large fluctuations or measurement errors. When you can afford the time to develop a detailed understanding of the nature of the seasonal factors for a particular series of interest, it is often preferable to work with the seasonally unadjusted data directly.

The above graph plots the seasonally unadjusted values for the Census Bureau's estimates of the number of single-family new houses sold each month in the U.S. In a typical year, this series reaches its lowest point in December and its highest value in March. March months are indicated by vertical lines on the graph. The average logarithmic March-to-March growth rate over 1964-2005 was a bit over 2%.
The revised 2006 new home sales figures released today exhibit this same pattern, with March again setting the year's peak. Unfortunately, this year's March sales of 108,000 new homes was down 16% logarithmically from March, 2005. Sales since have followed a typical pattern of falling off a bit from March to June, with the June figure of 103,000 units 11% below June 2005.
Another way to summarize the deviation from the usual seasonal pattern is with a graph like the following. In an average year prior to this one, June sales would be 36% above the December trough, whereas this year they are up only 17% since December. Only 4 years out of the last 41 years (which includes 6 recessions) saw as weak a December-to-June gain.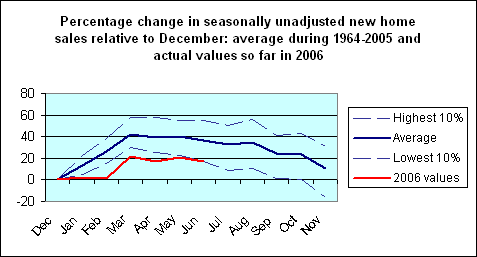 You get the same rough impression, though miss much of this detail, if you just look at the seasonally adjusted sales. Seasonally adjusted new home sales are down 12% for the first 6 months of 2006 compared with their average value during 2005, and seasonally adjusted sales for each of the last 5 months are lower than in any month since July 2004.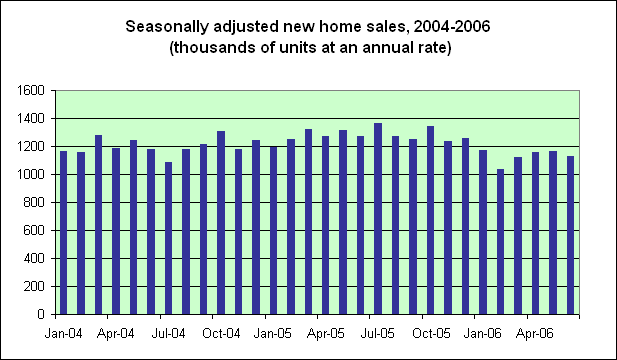 More coverage of both the seasonally adjusted and seasonally unadjusted data is provided by the always-excellent Calculated Risk.
---
Technorati Tags: housing,
new home sales,
seasonal adjustment