As expected, GDP growth slowed significantly in the second quarter.
The Commerce Department announced today that U.S. real GDP grew at an annual rate of 2.5% in the second quarter of 2006, less than half the whopping 5.6% growth now reckoned to have characterized 2006:Q1. To a first pass, it might appear as if growth rates for all the components of GDP have simply been downsized.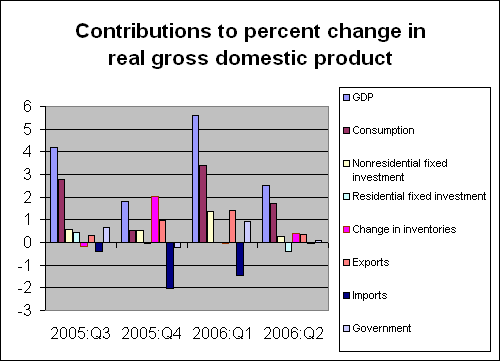 In some areas, such as imports and government spending, such downsizing might be welcome. Import growth drained 1.5% from 2006:Q1 GDP growth, but imports barely increased at all in 2006:Q2, so that for the first time in a year, net exports made a positive contribution to GDP growth. Less spending by U.S. residents overall usually means less spending on imports as well. If U.S. growth slows while that of our trading partners does not, that may be much more effective than a depreciation of the exchange rate in bringing the trade balance to a more manageable level.
In other areas, downsizing is distinctly unwelcome. Exports and nonresidential fixed investment are the two areas I would like to see playing a lead role in economic growth. Between them they contributed 2.8% to 2006:Q1 growth, but just a little over half a percent for 2006:Q2. Fed Chair Ben Bernanke has expressed hope that
investment in nonresidential structures, which had been weak since 2001, seems to have picked up appreciably, providing some offset to the slower growth in residential construction.
But with nonresidential investment contributing +0.28% to 2006:Q2 and residential investment -0.4%, it seems safe to say that Bernanke's optimism does not find much confirmation in the 2006:Q2 advance estimates.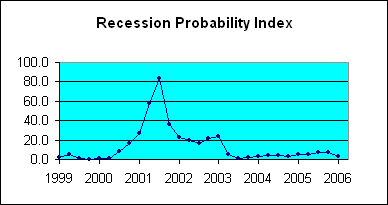 Nevertheless, the 2006:Q1 growth was so strong that it brought the recession probability index down from 7.1% for 2005:Q4 to 3.4% for 2006:Q1, a very favorable reading. This index is not a forecast of where the economy will be later this year, but is a backward-looking assessment of where the economy was as of 2006:Q1, using the latest data to form that assessment. It is intended as an alternative to the announcements made by the National Bureau of Economic Research, which, although highly authoritative and reliable, often fail to be made public until years after a recession has started. Background on how the recession probability index is constructed and a review of its historical performance are available here.
---
Technorati Tags: GDP,
recession probability,
recession probability index