Tim Iacono at The Mess That Greenspan Made had some interesting graphs this week.
Tim notes that immediately after the release of Thursday's FOMC statement, the dollar plunged against foreign currencies,
while gold shot up:
Tim interprets this as evidence that the "dovish" character of the Fed's latest statement has markets worried that inflation is about to roar away. However, the same market responses might have been expected even if inflation expectations had not changed a bit. Further Fed tightening would have meant higher carrying costs for speculators, and slower real economic activity from higher interest rates would have meant lower commodity demand, both of which would be bearish for commodities, including gold. Likewise, if future Fed rate hikes would have increased the interest differential between the U.S. and other countries, that would tend to support a higher valuation of the dollar. If the latest FOMC statement convinced investors that those future rate hikes are less likely than they were perceived to have been last Wednesday, a higher gold price and lower value for the dollar would be warranted compared with the values that made sense on Wednesday, even if inflation expectations were unchanged by the news.
Another market indicator that is consistent with the latter interpretation, and casts doubt on Tim's inflation story, is that long-term nominal bond yields also fell dramatically after the FOMC statement:
Notwithstanding, Tim is certainly correct that markets read the latest FOMC statement as indicating that the Fed is less anxious to raise rates further than many had previously been supposing. That's also quite apparent from the fed funds option prices. On Wednesday, the market had viewed 5.5% as the most likely outcome with 5.75% even a possibility. Now, 5.75% looks pretty far-fetched, and 5.25% has become a more respectable prediction:
Probability of indicated fed funds rate after August FOMC meeting. Source: FRB Cleveland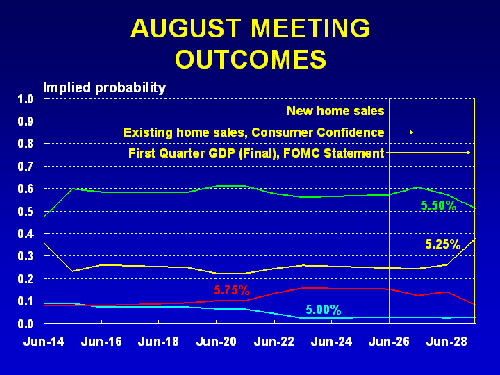 For once, I think the market is getting this right. The Fed really would prefer not to raise rates further. They can see the problems ahead for housing as well as any of us, and Bernanke has no desire to plunge the U.S. into a recession just to prove a point to financial markets. On the other hand, he's not going to allow a higher rate of inflation to become established under his watch, and if that means further rate hikes, you can still count on seeing more rate hikes ahead.
Is it possible to keep inflation from rising without causing a recession? I'm not sure. But I remain of the opinion that if anybody can pull it off, Bernanke's the man.
---
Technorati Tags: Federal Reserve,
inflation,
recession