The issue of international capital mobility comes up time and time again. There is the worry of capital and associated production capacity moving abroad to China for lower wage rates, and if not to China, to the rest of the world to escape environmental regulations or to avoid corporate taxation. So how mobile is capital?
There are a number of ways to answer this question. Frankel discusses the advantages and disadvantages of each approach. I'll focus on two — the flow approach of Feldstein and Horioka, and the price approach of looking at long term interest rates.

Feldstein and Horioka examined the correlation between savings and investment rates. In a world of full capital mobility, they conjectured, there should be no correlation between the two ratios. When examining a broad cross section, they found that the correlation was very high. In fact, in the most recent sample they examined (1970-74), it was 0.87 for 16 OECD countries (unweighted). As Feldstein noted last year, the results are quite sensitive to the weighting scheme. If using GDP weights, the coefficient for 1971-80 was 0.93, dropping to…0.57 in the decade ending in 2002. What this means is that for each dollar's increase in savings, investment increases by 57 cents. Furthermore, Feldstein conjectures, and Blanchard and Giavazzi concur, that a lot of this effect is driven by integration in Europe. They write:


"In short, for the countries of the European Union, and even more so for the countries of the Euro area, there no longer appears to be a Feldstein-Horioka puzzle. In highly integrated regions, investment and saving appear increasingly uncorrelated."

So for industrial countries, the observed decline in the Feldstein-Horioka coefficient is largely being driven by integration within the Euro area. This suggests that capital mobility, at least defined by this measure, is not increasing substantially outside of the Euro area.

What about the vast flows from China to the US? Well, note that capital on net is flowing from China to the US. And this flow — as from the rest-of-the-world, is driven substantially by actions by governmental and semi-governmental entities (as Feldstein notes), and not by private agents seeking the highest returns (or escaping the most onerous taxes).
The use of the Feldstein-Horioka regression coefficient of capital mobility is, of course, subject to debate. Hence, let me discuss another definition of capital mobility — that long term real interest rates are equalized. This is related to the (admittedly old-fashioned) approach of thinking about perfect capital account mobility as being characterized by equality of marginal productivity of capital across borders. A picture from the Bank of England's July Financial Stability Report is not kind to the proposition that real interest rates (here drawn from inflation indexed securities) are equalized.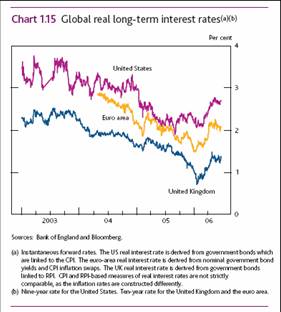 Chart 1.15:
from
Bank of England, Financial Stability Report, July 2006
.

Econometric work, conducted with Eiji Fujii, does not support the view that long term real interest rates are equalized across countries (although the evidence is better at long horizons than at short).

Excerpt from Table 7.B
from
E. Fujii and M. Chinn,"Fin de Siecle Real Interest Parity," Journal of International Financial Markets, Institutions and Money 11(3-4) (September 2001)
.
The beta coefficients are typically less than unity, sometimes statistically significantly so. (There are several tables in the paper; this one uses ARIMA forecasted PPI inflation, since this maximizes the use of recent observations, and PPI's cover more tradable prices than CPI's.)

Bottom line. I understand why many models assume perfect capital mobility. Imperfect capital mobility is hard to model. But one should be cognizant of how the model conclusions will change as one reduces the scope of adjustment along this dimension. In the context of, say, corporate taxation, a somewhat greater share of the tax burden will be borne by owners of domestic capital than what is implied under a perfect capital mobility assumption. (I have to say, since I spend about a third of my time in seminars seeing newly minted or about to be minted PhD's in macro introducing frictions into otherwise perfectly integrated capital markets, I gotta wonder …).


This is why the the recent CBO report on the burden of corporate taxes notes the following:

As capital mobility is reduced [so that it is only perfectly mobile between developed economies], domestic labor's share of the corporate burden becomes smaller and domestic capital's share of the burden becomes larger. For example, when the domestic economy is increased from 30 percent of the world economy to 70 percent of the
world economy, domestic labor's share falls from 73.7 percent to 32.5 percent (Table 8). Domestic capital's share of the burden increases from 32.5 percent to 72.7 percent.

Technorati Tags: href="http://www.technorati.com/tags/capital+mobility">capital mobility,
href="http://www.technorati.com/tags/real+interest+rate">real interest rate,
Martin Feldstin,
Charles Horioka.