So where's the surge in inflation expectations, now that the Fed has stopped tightening?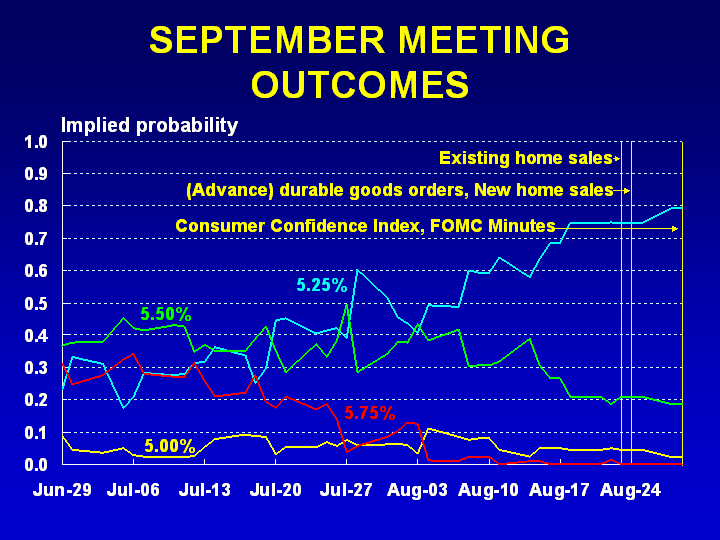 In case you've been hiding under a rock, the big financial story of the last month was that the Fed has stopped raising interest rates. The above graph (courtesy of the Federal Reserve Bank of Cleveland) shows the market's implied probability of different interest rates that the Federal Reserve might choose to set at its coming FOMC meeting in September, as reflected in the prices of fed funds option contracts. Two months ago, everybody was convinced that the big question for the September meeting was whether the Fed would select 5.5% or 5.75% as its target for the interest rates on loans of federal funds. Today, people are pretty confident the Fed will stick to 5.25%, just as the Fed chose in its most recent August meeting.
Many were the pundits who warned that, if the Fed did pause, inflation would come pouring out like water through a broken levee. If you believe that, one good way to insure yourself against inflation risk would be to buy a 10-year Treasury Inflation-Protected Security (TIPS), whose coupon and principal are both indexed to increase one-for-one with the headline CPI. By borrowing at today's low nominal yields to buy TIPS, you'll make a profit if inflation turns out to be bigger than the current nominal-TIPS spread. But that spread has been stubbornly stuck at around 2.6%, and if anything has come down since the Fed decided to stop tightening. If you are expecting more than 2.6% annual CPI inflation over the next 10 years, there seem to be plenty of people willing to take the other side of the bet against you.
Those raising the inflation fears have offered various excuses to dismiss the current low long-term nominal yields and high long-term TIPS yields as some kind of aberration or market misperception, somehow believing that inflation fears instead would show up in commodity prices. That view has always been troubled by the huge differences in price changes across different commodities. That view has been further challenged most recently by the fact that, since the Fed has decided to stop tightening, commodity prices have tumbled. Gold and oil are down,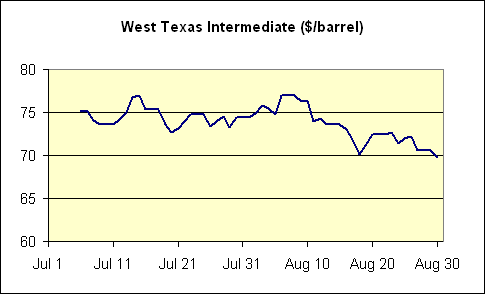 as are copper, zinc, and aluminum (graphs courtesy Kitconet)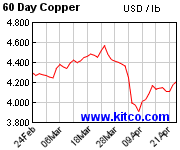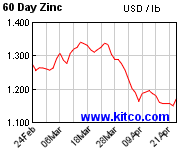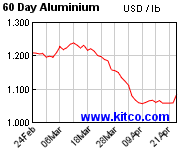 What brought commodity prices and long-term nominal yields down is the same thing that induced the Fed to pause, namely, the recognition that the magnitude of the incipient economic slowdown is more significant than many were anticipating a few months ago. To be sure, many other factors influence the price of any given commodity, and some commodities, such as silver, lead, and nickel, are up rather than down over the last two months. But other things equal, slower growth of real economic activity is bearish for any commodity, and as the reality of the slowdown has sunk in, commodity prices have responded, one by one.
Eventually that reality is also going to sink in with those who have been hollering that the Fed still hasn't raised interest rates far enough.
---
Technorati Tags: macroeconomics,
Federal Reserve,
interest rates,
inflation,
commodities,
oil prices