No question about it, the housing downturn is here now, and it's big.
The Census Bureau today released their estimates for the number of new homes sold through July. On a seasonally adjusted basis, July sales were down 4% from June, which in turn were down 13% (logarithmically) from their average value during 2005.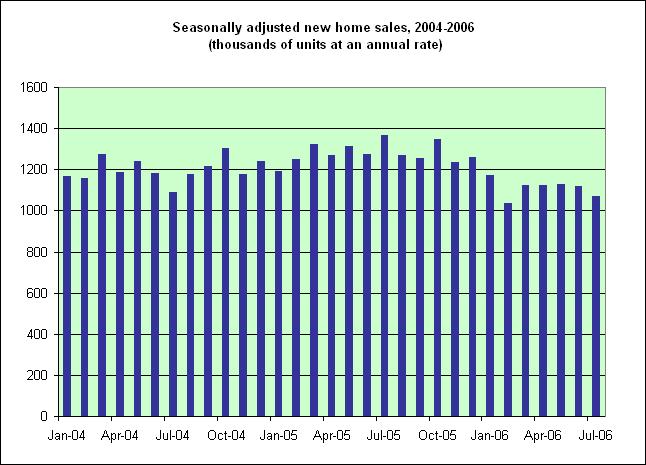 One can get a little clearer picture of what is going on by looking at the raw seasonally unadjusted data. New home sales are highly seasonal, strongest in the summer months. In a typical year, July new home sales would be 32% higher (logarithmically) than they had been in December. This year, July sales were less than 5% above December, or 27% below what we'd expect to see for this season in a typical year.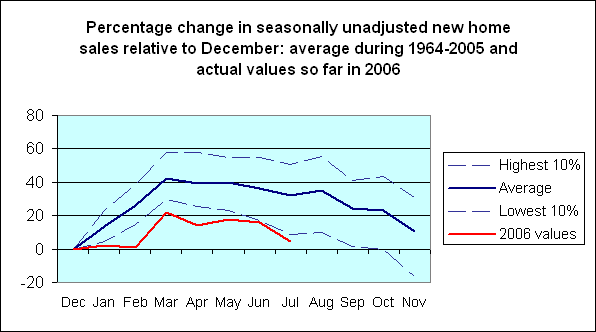 On a year-to-year basis, seasonally unadjusted new home sales in July were down 25% (logarithmically) from July 2005, and indeed below the July values for either 2003 or 2004; (see the nice graphs at Calculated Risk).
So how bad is that? In the last 42 years (a period that includes 6 economic recessions), there was only one year in which we've seen a weaker December-to-July gain. The good news is that record year was 1994, in which the economy did not go into a recession, but instead was the prototypical "soft landing" which the Fed hopes to repeat this time.
Can the Fed pull it off again? In 1994, the economy was not under the strain from high oil prices that we're currently experiencing. And I continue to have concerns that as the perception sets in that home prices are falling rather than rising, we may see some significant shifts in consumer sentiment and budget constraints that could introduce a dramatic new dynamic to the current situation. Barry Ritholtz spells it out if you're looking for some more reasons to worry.
---
Technorati Tags: housing,
new home sales,
macroeconomics