Now that the long-delayed Senate report on pre-Iraq War intelligence has finally put the Republican imprimatur on the well-established fact that the case for Iraqi WMD's had been hyped (as well as the absence of a Iraq-al Qaeda link), we can return our attention to a rational benefit-cost assessment for the invasion and subsequent occupation, ex ante as well as (quasi) ex post.
A well known study by Davis, Murphy and Topel (2006) used what I thought was the correct framework to assess the case for the invasion — namely assessing the relative benefits and costs in terms of foregone alternatives. They state:
"According to our analysis, pre-invasion views about the likely course of the Iraq intervention imply present value costs for the United States in the range of $100 to $870 billion. Our estimated present value cost for the containment policy is nearly $300 billion and ranges upward to $700 billion when we account for several risks stressed by national security analysts. Our analysis also indicates that war and forcible regime change will yield large improvements in the economic well-being of most Iraqis relative to their prospects under the containment policy, and that the Iraqi death toll would
likely be greater under containment."

As I mentioned in my previous posts on expenditures on Iraqi theater of operations and opportunity costs, the direct "burn rate" in billions of USD per month (bdpm) is 8, yielding a per year expenditure of around $96 billion. My calculations indicate, using a 2% discount rate as used in Davis et al. (2006), that if expenditures continue at the same nominal rate to end fiscal year 2010, and immediately drop to zero, then ex post the benefit-cost ratio of the invasion (even assuming Davis et al.'s worst-case scenario under continued containment) is less than unity. This calculation is biased in favor of the pro-invasion case in that I have not imputed dollar costs associated with the American military casualties that have occurred to date. Davis et al. rely upon a rate of $6.9 billion per 1000 fatalities, and $9 billion per 7153 casualties. As of end-August, US fatalities are 2644 and wounded at 19683 (see Figure 1 below).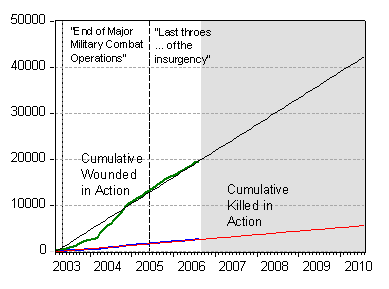 Figure 1: Cumulative fatalities and wounded in Iraq, up to end-August; and linear projections based on OLS regressions (no constant). Source:
Iraq Coalition Casualities
, accessed 8 September 2006, and author's calculations.
Figure 1 also shows the trajectories based on a linear projection, ending at end-FY2010.
Obviously, this is neither a fully ex ante, nor a fully ex post analysis, so the jury is still out. But for those who believed that stabilizing and rebuilding Iraq would not be a quick venture (but rather somewhere in between Davis et al.'s scenarios 5 and 7), the ex ante benefit-cost ratio always looked less than one.


What about an ex ante benefit-cost assessment at time t=now? Some of the same uncertainties abound, even if some are resolved. And what about the expenditures already undertaken to date? Economic theory indicates that under conventional utility functions, and static analysis, sunk costs are irrelevant. Dynamic analysis might — or might not — alter the answer.


Late Addition 9/11/06 10AM Pacific


Situation Called Dire in West Iraq Anbar Is Lost Politically, Marine Analyst Says," Washington Post, 9/11/06, page A01.


"The chief of intelligence for the Marine Corps in Iraq recently filed an unusual secret report concluding that the prospects for securing that country's western Anbar province are dim and that there is almost nothing the U.S. military can do to improve the political and social situation there, said several military officers and intelligence officials familiar with its contents.



The officials described Col. Pete Devlin's classified assessment of the dire state of Anbar as the first time that a senior U.S. military officer has filed so negative a report from Iraq.



One Army officer summarized it as arguing that in Anbar province, "We haven't been defeated militarily but we have been defeated politically — and that's where wars are won and lost."



The "very pessimistic" statement, as one Marine officer called it, was dated Aug. 16 and sent to Washington shortly after that, and has been discussed across the Pentagon and elsewhere in national security circles. "I don't know if it is a shock wave, but it's made people uncomfortable," said a Defense Department official who has read the report. Like others interviewed about the report, he spoke on the condition that he not be identified by name because of the document's sensitivity."

Technorati Tags: href="http://www.technorati.com/tags/Iraq">Iraq,
benefit-cost ratio, cost-benefit ratio,
casualties,
defense expenditures, containment.