The dollar weakens. Why? For how long? Against Whom?
Bloomberg reports that the dollar has weakened on reports of slowing U.S. growth:

"The dollar fell for a third day against the yen on speculation U.S. reports today will show slowing growth in the world's biggest economy, supporting a decision by the Federal Reserve to keep interest rates on hold.


The U.S. currency slid against 15 of its 16 most actively traded counterparts before reports that may show manufacturing cooled and jobless claims rose, according to Bloomberg News surveys of economists. The Fed held its benchmark rate at 5.25 percent yesterday, saying inflation pressures will moderate."
Is there evidence for a more rapid slowdown in the U.S. vis a vis the rest-of-the-world? From the IMF's Global Financial Stability Report comes this graph of yield curves in several other major economies.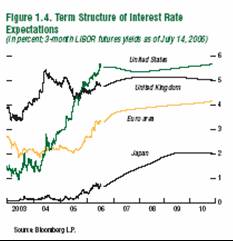 Figure 1.4:
from IMF's
Global Financial Stability Report
(Sept. 2006).

In short, the yield curves suggest a slowdown in US growth, while more rapid growth seems to be indicated for the euro area and Japan. Given that exchange rates are procyclical, this graph buttresses the case for near term dollar weakness, holding constant any possible "flight to safety" shocks (think Hungary or Thailand).
Another graph (Figure 1.17) presents some other interesting insights. The first is that Consensus Forecasts' measures of expectations are for continued dollar depreciation. The second is that the dollar is viewed as having more scope for depreciation against Asian currencies than non-Asian.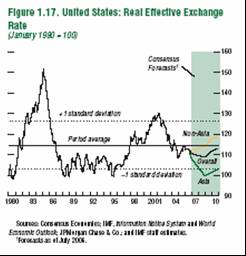 Figure 1.17:
from IMF's
Global Financial Stability Report
(Sept. 2006).
Hence, in line with what I predicted back in June, the dollar seems set for decline. Deutsche Bank predicts a 6.1% (logarithmic) decline in the trade weighted nominal dollar in a year's time, and a dollar/euro (yen/dollar) [yuan/dollar] exchange rate of $1.34, (1.01), and [7.68].
Technorati Tags: href="http://www.technorati.com/tags/dollar">dollar,
exchange rate,
yield curve