Last week I discussed the way in which California's Proposition 87, the Clean Alternative Energy Act, would raise revenues. Today I take a look at some of the implications of its proposed use of those funds.
Some time back Econbrowser reader Joseph Somsel called my attention to this story from the Times highlighting some of the practical problems with building windmills in places without a lot of wind:
Windmill at school in Tsukuba. Source: the Times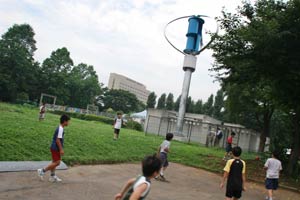 Welcome to Tsukuba, the town that prides itself on being the most hallowed scientific research centre in Japan and the site of perhaps the worst electricity wind farm in the world: in the 12 months it has been operating, its million-pound windmills have consumed 43 times more power than they have generated.

The project to make Tsukuba a self-sufficient showpiece for green energy has failed, heaping scorn upon the central government programme to test alternative sources. It is likely to be used as ammunition by sceptics elsewhere, including Britain, where the Government this week published its energy review. Tsukuba is now locked into a spiral of civil litigation, criminal investigations and an unprecedented attack on the academic reputation of Waseda University, Japan's most respected seat of learning.

Faced with the embarrassment of its stagnant windmills and what a city representative called a "negative image problem" for Tsukuba, the scene has descended into farce. To give the impression of a functioning alternative energy programme, on parent-teacher evenings and for visits by outside dignitaries, the generators are reversed to become motors and the sails are made to turn artificially.
I use this example in order to bring up the following basic question– by what criteria would we determine whether a project such as Tsukuba was a waste of money? The Times article implicitly invokes a notion of net energy yield– if it takes more energy to run the project than it generates, then it was not a good idea. But by this standard, we would never approve of generating electricity, since a good deal of the original Btu content is lost whenever one converts an energy source like coal into electricity and sends it across transmission lines. Even though substantial energy is lost by this process, we nevertheless deem it a very logical thing to do, because the energy in the form of electricity is much more useful to us than were those Btus in the original coal.
And even a project that generated a lot of energy in a very useful form need not be a good idea. The ultimate scarce resource is the limited time that each of us is given on this earth. If a large amount of labor is needed to generate energy from a particular project, we might deem ourselves better off if we instead devoted our efforts to harvesting some alternative energy source that required less human effort.
And don't neglect the steel and other materials that went into constructing the windmills, which themselves required energy, labor, and other inputs to manufacture, whose sacrifice must again be weighed against whatever benefit we may get from the project.
An economist would want to account for all of these direct and indirect inputs, asking what value would be attached to the energy, labor, materials, land, and capital used in the project, and compare this with the value of everything we get out of the project. The most natural way to value the labor and other inputs is to ask, how much do we need to compensate the owners of those inputs in order for them to be convinced they are better off contributing to our project rather than doing something else? Likewise, we would logically value the output by finding out how much the person who uses that item is willing to surrender in order to receive whatever we are producing. But numbers for such valuations are not something we need to pull out of thin air. If the output is sold to a willing user, that user has thereby signaled that he would rather have the item than the dollars surrendered, just as voluntary workers have indicated they would rather have the dollars they earn from working. If by this reasoning market prices accurately reflect the values of the inputs and outputs, the question of whether the project is a good idea comes down to a simple calculation of whether it makes a profit. If the value of what is produced is greater than the value of what is surrendered to make it, then it was a good thing to do.
Whatever else you want to say about Chevron Corporation, they surely know how to make a profit. It is inconceivable to me that a private company would willingly enter into a project like Tsukuba for purposes of making a profit. We can unquestionably count on private enterprises to try to make a profit, but we can not count on a public enterprise such as the California Energy Alternatives Program Authority that would be created by Proposition 87 to pursue energy projects whose value to users exceeds what must be surrendered to produce them.
To be sure, one of the big concerns in energy is that not all the things that are lost in producing or utilizing the energy are paid for by the producer or consumer. For example, the driver of a car emits air pollution, a cost for which he does not personally pay. For this reason, many economists advocate putting a tax on any activity that imposes uncompensated costs on others, in order to ensure that the very powerful motive of profit maximization is indeed making the correct valuation of comparing costs and benefits. However, as both I and Greg Mankiw have noted, the tax in Proposition 87 is not so structured.
In addition to "negative externalities" like pollution, alternative energy sources entail some "positive externalities"– positive benefits to society for which the producer is not compensated by the market. These include the demonstration of the feasibility of a new method, or infrastructure enabling people to use a new alternative. The traditional economic prescription for positive externalities is the use of subsidies. I personally am less persuaded of the efficacy of relying on this mechanism, because I think it is far too easy for the process to be co-opted by lobbying interests, as I believe we saw, for example, in the role of agribusiness in last year's national energy bill. For this reason, I have instead always been a strong supporter of direct government sponsorship of basic scientific research, and agree with proponents of Proposition 87 that a significant role for government in exploring energy alternatives would be a good thing.
My concern with Proposition 87 is instead one of magnitudes and practicality. Saying that government energy investments could be more effective than private expenditures is a very different thing from saying that they will. Proposition 87 takes a huge sum away from the private sector, to be delivered to an enterprise with no track record of success. Perhaps we will get some good things from this project, but I am fearful that most of this money will go to projects whose value, even accounting for all conceivable positive and negative externalities, is less than the cost.
Who would ever approve such a thing? Only someone who believes they are spending someone else's money.
---
Technorati Tags: alternative energy,
Proposition 87,
Prop 87