Dave Schuler and his Glittering Eye have called for a cross-blog discussion on options and prospects for Iraq. I'm glad to contribute with some thoughts on the economic situation, and invite you to participate as well, with comments left here or at any of the other participating sites.
With the military and political challenges in Iraq so daunting, it may seem odd to be discussing economic strategy at this point. However, I believe a case can be made that without a system to generate jobs and incomes, and in particular to guarantee the economic welfare of the Sunnis, even the best military strategies or wisest political solutions would have a very hard time succeeding.
Although many of the geopolitical and military recommendations in the report from the Iraq Study Group have generated a good deal of controversy, in my opinion the ISG produced some excellent analysis of the economic concerns. First, the ISG is of course correct that "the oil sector is critical to the success of the Iraqi economy." I would draw the analogy to first aid for someone with multiple life-threatening injuries. The first thing you have to do is stop the bleeding, because if you can't succeed at that, nothing else will matter. Petroleum is the lifeblood of the Iraqi economy.
One would therefore presume that one of the most important military objectives in Iraq would be to maintain petroleum production and exports. The raw data compiled by the Brookings Institution Iraq Index support the view that such efforts have been reasonably successful. Attacks on Iraqi oil infrastructure have been kept down,
Number of attacks each month on Iraqi oil and gas pipelines, installations, and personnel. Source: Iraq Index.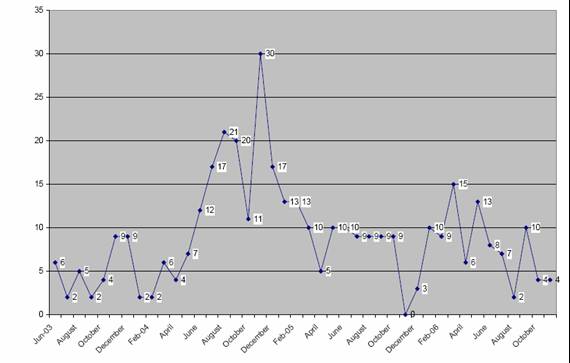 and up until the last two months, production and exports have held up:
Where clearly a better job needs to be done is in making sure that these oil flows work immediately and obviously to the benefit of ordinary Iraqis. Starting small, one of the real gems from the ISG report is buried within a bullet point of their Recommendation 62:
The U.S. military should work with Iraqi military and with private security forces to protect oil infrastructure and contractors. Protective measures could include a program to improve pipeline security by paying local tribes solely on the basis of throughput (rather than fixed amounts).
This strikes me as an incredibly good idea, not just from the perspective that it's a more efficacious way to reduce infrastructure attacks, corruption, and theft, but also because it works immediately toward the very important objective of letting Iraqis personally and directly receive benefits and develop a stake in economic reconstruction. If you pay somebody a fixed fee, it's up to you to figure out how to solve all the problems, and you're the one who receives the benefits if it works. If you instead pay somebody based on success, it's their mandate to make everything work, and their reward when it does. Although the ultimate goal of giving the Iraqis personal responsibility and opportunity may be hard to negotiate on some of the bigger issues (see below), pipeline security is surely an excellent place to begin.
I also enthusiastically endorse this separate component of Recommendation 62,
Metering should be implemented at both ends of the supply line. This step would immediately improve accountability in the oil sector.
This seems particularly appropriate to combine with one of the elements of the ISG "long-term" Recommendation 63,
To combat corruption, the U.S. government should urge the Iraqi government to post all oil contracts, volumes, and prices on the Web so that Iraqis and outside observers can track exports and export revenues.
That might sound like a nothing sort of recommendation, but I suspect that it has real bite. If it is correct, as the ISG elsewhere speculates, that 150,000 to 500,000 barrels of oil per day are currently being stolen, someone mighty powerful– and someone becoming by the day that much more powerful– has a tremendous stake in keeping the records as opaque, confused, and disorganized as possible. There is doubtless tremendous pressure to try to deal with such power bases, and I'm wondering if that pressure isn't part of the reason that the ISG considered this publication step too bold or aggressive to include in the "short-term" recommendations. But I would think this is an issue on which President Bush should "spend his capital" to try to promote. Rooting out corruption and creating a system in which Iraqis can directly observe and receive the benefits strikes me as absolutely vital for the success of the mission. Again, this is something on which one can start small and right away. I don't see why the narrow military mission of protecting a pipeline shouldn't include establishing a meter and publicly reporting what comes through it, one location at a time.
These are small steps, and of course the bigger challenge is establishing clear rights of ownership to Iraqi oil resources, clarifying who has authority to negotiate new investments and who will receive the benefits from them. Again, in my opinion, the ISG has this exactly right:
As soon as possible, the U.S. government should provide technical assistance to the Iraqi government to prepare a draft oil law that defines the rights of regional and local governments and creates a fiscal and legal framework for investment. Legal clarity is essential to attract investment.
Of course, there's much at stake here and much over which to wrangle. Perhaps it is too late now for my suggestion of majority state-owned companies. Clarity of some kind– any kind– would be an improvement on the status quo.
I continue to believe that it is a mistake to view this as purely a military and political problem. Setting up an economic system in which Iraqis themselves have the opportunity to receive the rewards for their efforts is critical to success. That is, after all, the principle that accounts for the booming criminal segment of Iraqi society.
---
Technorati Tags: Iraq Study Group,
Iraq