There's been a debate whether investment rates in China are sustainable or not.
Goldman Sachs' Hong Liang argues that incremental capital to output ratios have been trending downward, which — in conjunction with other rising measures of profitability — suggest no "over-investment" (thanks Brad Setser for bringing the paper to my attention). This issue is of particular interest because in the run-up to the East Asian crises, incremental capital to output ratios (ICORs) were rising.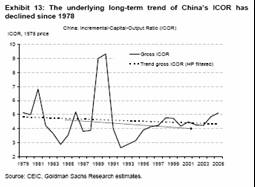 Figure 1:
Source:
Hong Liang, "China's Investment Strength is Sustainable," Global Economics Paper No: 146, (Oct. 2006).
The incremental capital to output ratio is the change in output for a unit change in physical capital. Usually, increases in the ICOR are interpreted as decreases in the efficiency of capital. Since this coefficient is calculated without holding constant other factors of production, it is only a very imprecise measure of the (inverse) marginal product of labor. In any event, from this perspective, the current pace of (correctly measured) investment could continue indefinitely.


Interestingly, with somewhat similar pictures, a recent IMF working paper by Barnett and Brooks comes up with a different conclusion.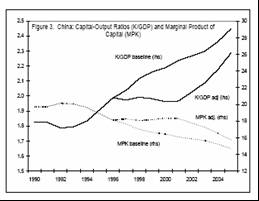 Figure 2:
Source:
Steven Barnett and Ray Brooks, "What's Driving Investment in China?" IMF Working Paper WP/06/265, (Dec. 2006).
The Barnett/Brooks calculations focus on the capital-to-output ratio, rather than the arguably more standard ICOR. However, Barnett and Brooks compute a more relevant measure, the marginal product of capital (MPK) [although documentation of how they calculate the series is a little sparse]. The MPK is, conceptually, the partial differential of output with respect to a unit of capital, and is the theoretically relevant measure (this is what is set equal to the rental cost of capital when a firm optimizes). The MPK variable is trending downward using conventional depreciation rates, and trending downward after 2003 even if one assumes a one-off 10% obsolescence of State Owned Enterprise (SOE) capital in the 1990′s due to the accelerated pace of reforms.
Given these results, the authors conclude:

"Investment has grown rapidly in China in recent years, reaching more than 40 percent of GDP. Despite good progress on bank and enterprise reforms, weaknesses remain that could contribute to inefficient investment decisions. Manufacturing, infrastructure, and real estate
have been the drivers of fixed asset investment. Econometric analysis presented in the paper suggests that manufacturing investment is strongly correlated with firms' liquidity, largely retained earnings. … A policy implication of these findings is that reducing liquidity in firms, for example by requiring state-owned enterprises to pay dividends to the government, and using monetary policy to reduce liquidity [and] increase real interest rates, would slow investment in manufacturing …"
Now, one might say that decreased investment is the last thing China needs, given the outsize current account balance to GDP ratio. [Remember CA == (T-G) + (S-I) ]. But I would argue that China needs to see a decline in both investment and saving, and getting investment behavior to be more akin to that in a run-of-the-mill developing countries is an important part of rebalancing the Chinese economy.
Technorati Tags: href="http://www.technorati.com/tags/China">China,
investment,
incremental-capital-to-output ratio,
marginal product of capital