A little bit of knowledge is a dangerous thing. How does extending the debate beyond Econ 101 levels of analysis change the nature of the debate?
A lot of virtual ink has been spilled in recent months over the proposal to implement a phased increase in the Federal minimum wage from $5.15 to $7.25. See here and here. (And some after I wrote this post, including David Altig, who undertakes a sophisticated discussion here, as well as Mark Thoma at Economists View, from a search theoretic perspective).
Figure 1 below shows the nominal (red) and real (2001$) minimum wage (deflated by the BLS's research CPI series). As is clear from the graph, the real series has been trending downward for a long time; longer trends are depicted in my colleague John Kennan's survey of the minimum wage (with graph in log terms here).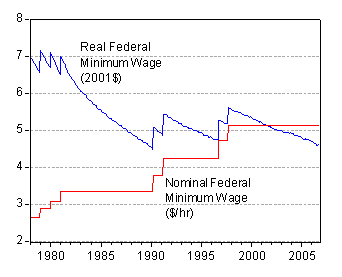 Figure 1:
Real minimum wage (2001$) deflated by CPI-RS (blue) and nominal minimum wage ($/hours). Sources: Federal minimum wage from
About.com
, CPI-research series from BLS; 2006 CPI data are CPI-urban.
The standard economic analysis I see is conducted in the framework of models with perfect competition, no information asymmetries, etc. In other words, the most basic, neoclassical supply an demand framework is utilized. In this context, placing a wage floor that binds causes excess supply.
I don't deny that this framework is a powerful tool. Yet, I think it is all too easy to blithely adopt this approach without thinking about whether the labor market behaves in a way similar to the market for widgets and other commodities.
First, it is a well known fact that in a model with monopsony in factor markets, a wage floor like a minimum wage, can increase employment (the result is shown by Stigler (American Economic Review, 1946). The analogy that might be more familiar to readers is that of a price ceiling on a monopoly; that induces lower prices and greater production.
As Kennan notes (citing Stigler's reasoning), even if there was monopsony power on the part of the firms emplying the relatively small segment of the work force, unemployment might still result since differing firms would have differing labor demand curves.
Another critique of this view is that monopsony is too strong a characterization of the market conditions facing firms that tend to hire workers. That is where I think this paper by Bhaskar and To ("Minimum wages for Ronald McDonald Monopsonies: A theory of monopsonistic competition," Economic Journal, 1999; working paper version), comes in. They model firms as having some slight market power, and workers as being differentiated. From the abstract:

We develop a model of monopsonistic competition with free entry to analyze the effects of minimum wages, and our predictions fit the empirical results closely. Under monopsonistic competition, we
find that a rise in the minimum wage a) raises employment per firm, b) causes firm exit, c) may increase or reduce industry employment. Minimum wages increase welfare if they raise industry employment, but welfare e
ects are ambiguous if employment falls. Industry price
and employment are inversely related if the product market is competitive. However, if firms have product market power, a minimum wage which raises industry employment can also increase prices.
Now some might think that we should not deviate from models assuming homogeneity and perfect competition, in favor of such abstruse models. And I agree it's an open question what is a better characterization of a markets in any particular instance. But I think it is also true that in macroeconomics and international trade theory, we have long ago moved away from assuming perfect competition in firm behavior, adopting monopolistic competition s the baseline. The dynamic stochastic general equilibrium (DSGE) models cited by Greenspan (Sigma) have this structure. The menu-cost based New Keynesian macro models the Mankiw developed have this flavor. Indeed, Ph.D. macro courses are now based on models with some type of imperfect competition in product markets; why not in factor (and hence labor) markets as well?
So this is a plea, not for thinking that minimum wage increases will necessarily have a positive net effect (The Bhaskar and To paper does not make that point), but rather for not blindly reaching for the standard off-the-shelf neoclassical model to answer policy questions. I think the case for a thorough and sophisticated debate is further buttressed by the fact that it has proven difficult empirically to identify negative employment effects from increasing the minimum wage.
Technorati Tags: minimum wage,
monopsony