More evidence that the housing market has stabilized, consistent with the recent policy stance of the Federal Reserve.
I recently described ([1],
[2]) some of my latest research on the way that Federal Reserve policy affects the housing market. That paper presents evidence that mortgage rates respond not just to the current target for the fed funds rate that is set by the Federal Reserve, but also to lenders' anticipation of what the Fed is going to do in the future. If the latter is summarized by the level and slope of the term structure of near-term fed funds futures contracts, I find that a 10-basis-point increase in the level of expected near-term rates leads to a 5-basis-point increase in 30-year mortgage rates, while a 10-basis-point increase in the monthly slope leads to a 13-basis-point increase in mortgage rates.
From this perspective, even though the Fed has not changed the fed funds target since June, its decisions have nevertheless been moving mortgage rates and affecting home sales. In June 2006, the market expected the Fed to continue tightening up to a target of 5.5% by last fall, and mortgage rates in June 2006 were pricing in this expectation. As the market discovered that the Fed was going to hold steady after all, this translated into a surprise decrease in the level and slope of the fed funds term structure, which explains part of why mortgage rates started to fall in July. As the market became persuaded in December that the anticipated target cut this spring was not to be, mortgage rates have crept a bit back up, though are still 50 basis points below their July peak:
In that research, I also documented the very long delays between changes in mortgage rates and the effect on home sales, which I attributed in part to the fact that the average U.S. homebuyer spends 14 weeks searching before buying a home. I used this lag structure to calculate how a change on a given day of the market's anticipation of future Fed policy will likely affect home sales each day for the subsequent half year. These parameters also allow one to calculate what the net effect on today's home sales might be as a result of the cumulative consequences of previous Fed surprises. This series can be plotted for each day in what I described as an index of the stance of monetary policy: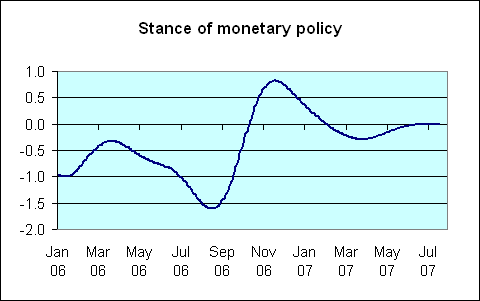 Positive values mean that new home sales on that day are predicted to be higher than they otherwise would be, as a result of the cumulative consequences of unanticipated changes in the stance of monetary policy over the previous six months. Negative values imply depressed home sales. The graph shows that unanticipated Fed policy changes were continuing to be a factor bringing home sales down throughout the summer and early fall of last year, even though mortgage rates were coming down dramatically. On balance, previous unanticipated changes in monetary policy were a factor that would have continued to depress home sales through October 12, 2006, at which point the Fed's autumn decision to stop raising rates should have begun to be a net positive for new home sales.
That's also consistent with what we see in the housing data released over the last few weeks.
Seasonally adjusted new home sales were up 4.8% in December compared with November and up 14.4% from their low in July. That leaves them down only 11% from December 2005:
Building permits, a reliable leading indicator that had been uniformly bearish, were up 5% in December over November, leaving them down 24% year to year. Housing starts are now up 11% from their low in October, down 18% year to year: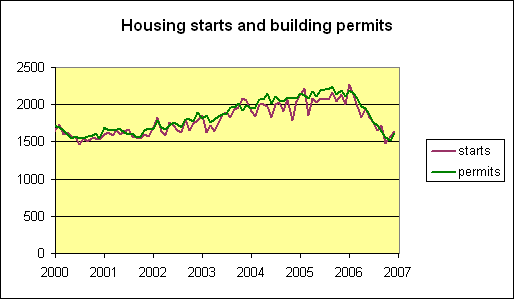 Granted, there's plenty of noise in these monthly data, and mild weather may be helping. So if you firmly expected to see housing continue to deteriorate, you could claim not to be impressed by the last two charts. But if you were expecting to see housing stabilize, as I was, you'd call the series just as they are.
One can also project the monetary-policy index forward under the assumption that the Fed does nothing from here on to surprise the market, as is done in the "Stance of Monetary Policy" graph above. Under that assumption, the autumn monetary policy stimulus will have evaporated by February 2, after which the apparent decision of the Fed to hold the rate steady at 5.25% through the first half of 2007 will start to make a net negative contribution.
---
Technorati Tags: macroeconomics,
housing,
Federal Reserve