So Shinseki was right.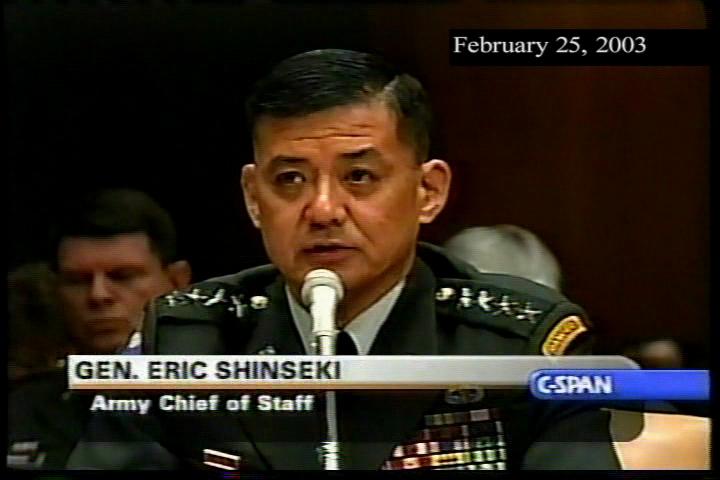 General Shinseki revealing his estimates of several hundred thousand men for the required complement to occupy Iraq. Senate hearing, February 2003.

The President now wants to escalate U.S. involvement in Iraq by increasing troop levels (although to nowhere near the levels that former Army Chief of Staff General Shinseki estimated would be necessary to stabilize Iraq). With "burn rates" likely to rise up from the current 9.17 bdpm (or about $110 billion per fiscal year), he also wants to increase the size of the army. Presumably he also wants to ensure the armed forces have the equipment needed. Finally, he is adamant in wanting to make the tax cuts of 2001 and 2003 permanent. The following puts into high relief the fact that tradeoffs need to be made (see also here). From the below excerpt, we know what the President has traded off thus far in order to maintain the tax cuts. Whether he will continue to do so is an open question.
According to the GAO's new report, Securing, Stabilizing, and Rebuilding Iraq:

"DOD also faced the challenge of supplying sufficient amounts of armor for Army and Marine Corps trucks. U.S. military forces in Iraq have experienced shortages of truck armor due to problems with production and installation of armor kits. Although the Army first identified a requirement for 3,780 truck armor kits for five types of trucks in November 2003, it did not produce all of the kits until February 2005 and did not install the kits to meet the initial requirement until May 2005 — 18 months after the requirement was identified. Requirements continued to increase after May 2005, but the time lag to meet them lessened. A number of factors contributed to the time needed to provide truck armor to deployed Army troops. As a result, troops were placed at greater risk as they conducted wartime operations in vehicles not equipped with the preferred level of protection. For example, the Army missed a valuable opportunity to have substantial numbers of truck armor kits available for OIF by not fully capitalizing on approved requirements for these kits established in 1996. In addition, production time lengthened because contracts were awarded for amounts less than total requirements due to increasing needs for truck armor and inadequate funding. Sufficient documentation was lacking to determine why funding was not available when needed, limiting effective oversight over funding decisions. Material shortages and limited kit installation rates also affected the availability of truck armor." (page 88)

The following also illustrates how systemic these problems are:

"OIF ["Operation Iraqi Freedom"] tested the DOD logistics system and the industry's capability to meet rapidly increasing demands, and in many instances the supply chain failed to respond quickly enough to meet the needs of modern warfare. In prior reports, we have reported on shortages of critical items1 and the systemic deficiencies in supply support that led to these shortages. These deficiencies included (1) inaccurate and inadequately funded Army war reserve requirements, (2) inaccurate supply forecasts, (3) insufficient and delayed funding, (4) delayed acquisition, and (5) ineffective distribution. DOD developed short-term solutions to manage item shortages during OIF, and DOD and the services have begun to undertake systemic, long-term changes to fix some of the supply problems identified." (page 92) [emphasis added]
I highly recommend the entire document.
[Addendum: 2pm 1/11]
Iraq Coalition Casualties website released the WIA figures last night. As of 9 January, cumulative fatalities are 3018, and cumulative wounded are 22728.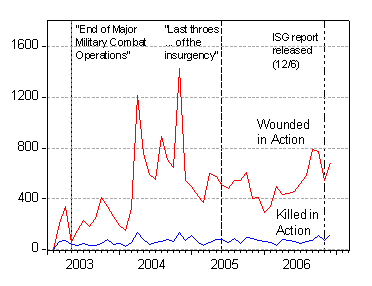 Figure 1:
Fatalities and wounded in Iraq, end-of-month. Source:
Iraq Coalition Casualities
, accessed 11 January 2007. Note: ISG report released on 12/6.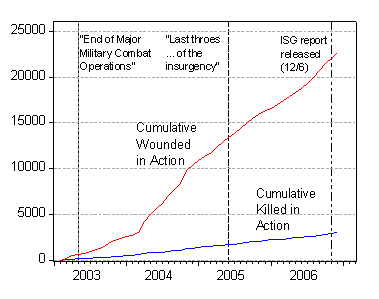 Figure 2: Cumulative Fatalities and wounded in Iraq, end-of-month. Source: Iraq Coalition Casualities, accessed 11 January 2007. Note: ISG report released on 12/6.

Technorati Tags: Iraq, tax cuts,
armor,
defense expenditures, burn rate.