Or, "opportunity cost illustrated" redux. From GovExec.com: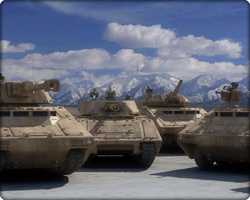 Cash-strapped Army plans cuts to future combat program
By Megan Scully, CongressDaily



"The Army is planning significant cuts and other changes in its $160 billion Future Combat Systems program to save $3.3 billion through 2013.



The cuts, outlined in a recent memo from the service's top acquisition official, are an indication that the Army is beginning to sacrifice some of its planned funding for weapons systems to pay for both increased Iraq war costs and plans to expand the service by thousands of soldiers.



The undated memo, signed by Army Acquisition Executive Claude Bolton, said bluntly that cuts and other adjustments to FCS are "strictly budget driven" and are not due to the contractors' performance or other issues.



"You should incorporate these changes as expeditiously as possible in order to maximize the availability of current year resources to execute the adjusted FCS program," wrote Bolton, who did not include dollar figures in his memo. FCS, the most expansive and expensive technological endeavor in Army history, forms the core of the service's technology transformation.



Among many changes listed in a three-page addendum to Bolton's memo, the service intends to cancel two of the four unmanned aerial vehicle classes originally planned for the sprawling FCS program, and suspend development efforts on an armed robotic vehicle.



FCS program officials also have been ordered to stop work on development of the XM307 armament system, and instead use existing crew-served weapons. All of those systems are now dubbed "objective requirements" for the FCS program, treating them as goals and not listing them among the primary systems that must be funded by the Army.



The Army also has changed several primary requirements for the Non-Line-of-Sight Launch System to objective requirements, and has placed two small unmanned ground vehicles on the objective requirement list. In addition, the Army plans to scale back experimentation costs for FCS and reduce the number of technology "spin outs" of various FCS technologies from four to three.



Army Chief of Staff Peter Schoomaker on Wednesday downplayed any squeeze on the FCS budget. Schoomaker emerged from a two-hour closed-door meeting with House appropriators Wednesday confident that increased operational and personnel costs would not adversely affect the service's expensive technology transformation."



I'm not contending that modularity is necessarily the way to go (see this CBO report for alternatives), but this event is a harbinger of things to come, as the tension between budget deficits, spending in Iraq, other demands (not to mention weapons systems cost overruns [1]) rises. So, while $3.3 billion is not much, but I'm confident that this is only the beginning. Expect other trimming in the Littoral Combat Ship (LCS) program, the JSF, etc. (even if in the short term, spending remains high [2].) Something has to give. I don't even want to think about what will happen to Veteran's Affairs funding, relative to increased need to handle the wounded resulting from OIF. But the CBO has considered what the Administration did in the past:
"During the past two years, VHA's costs have exceeded the amounts initially requested or appropriated. In a hearing of the House Committee on Veterans Affairs on June 23, 2005, Secretary of Veterans Affairs Jim Nicholson stated that VA's costs for medical care for FY 2005 would exceed the amount already enacted for that year by about $1 billion. At a hearing five days later of the Subcommittee on Military Quality of Life and Veterans Affairs, and Related Agencies, of the House Committee on Appropriations, Secretary Nicholson testified that VA would require between $1.1 billion and $1.6 billion more to administer its medical program in 2006 than had been
requested in the FY 2006 President's budget submission. In response to the issues raised during those hearings, the Congress included $1.5 billion in supplemental appropriations for veterans' medical care in the FY 2006 Department of the Interior, Environment, and Related Agencies Appropriation Act (H.R. 2361, Public Law 109-
54), which the President signed into law on August 2, 2005. …
For more comprehensive assessment of the challenges facing defense spending, see CBO, "Long-Term Implications of Current Defense Plans: Summary Update for Fiscal Year 2007," (October 2006). The following figure shows how the Administration can predict an eventual balancing of the budget. Assume away cost overruns and stuff the remainder in supplementals. (The Administration has indicated that the second 2007 supplemental will be the last; I'll wait to see if that's the case [WSJ, 1/18/07].)
Figure 3:
Figure 1 from
CBO, "Long-Term Implications of Current Defense Plans: Summary Update for Fiscal Year 2007," (October 2006)
.
Technorati Tags: href="http://www.technorati.com/tags/Iraq">Iraq, href="http://www.technorati.com/tags/tax+cuts">tax cuts,
transformation,
defense expenditures.