Berkeley Professors Christina and David Romer have an
interesting new research paper estimating the macroeconomic consequences of tax changes.
How can one use historical data to estimate the effects of tax changes on GDP? The simple idea of looking at how the two series are correlated obviously won't do, since tax revenues would necessarily rise during an economic boom as an immediate consequence of the fact that, with a given tax schedule, people would owe more taxes if they earn more income. The correlation between tax revenues and GDP would then be telling us the effect of GDP on tax revenue rather than the effect of tax rates on GDP. The common method of calculating cyclically adjusted tax revenue could correct for this, but only partially. For example, that series, shown in red in the diagram below, shows consistent revenue gains in the 1990s, even though Congress was not changing the tax code. These revenue gains instead reflect such factors as a strong stock market which was helping to generate extra tax receipts and which in turn reflected strong economic fundamentals. The positive correlation between cyclically adjusted tax receipts and GDP growth in the 1990s thus would not tell us anything about how changes in the tax code might affect economic performance.
Change in cyclically adjusted federal tax revenues (red line) and Romer and Romer series for exogenous tax changes (blue line). Source: Romer and Romer (2007)


The first step in the Romers' research was to read through sources such as presidential speeches, the Economic Report of the President, and reports of legislative committees to isolate tax changes that were the direct result of intentional legislation. Macroeconomists will recognize this as similar in spirit to an earlier very influential study by the Romers to try to identify deliberate changes in monetary policy. In their current effort, the Romers take the view that isolating tax changes that were the deliberate result of legislative changes is not enough to resolve the causality question. For example, there were deliberate legislative tax increases in 1951 to pay for the Korean conflict and in 1965 to pay for Medicare. But if one looks at what happened to GDP after either of these episodes, one would be seeing the combined effect of the tax increase (which should reduce output) and the spending increase (which would be a source of stimulus). Another potential problem arises with events such as the tax surcharge of 1968, which the Romers see as intended to prevent the economy from overheating and causing inflation. If such countercyclical measures worked as intended, one would see the tax increase followed by normal growth rather than the faster than normal growth that Congress was seeking to prevent.
The Romers therefore recommended purging their series for legislated tax changes from such spending-driven and countercyclical changes, and arrived at a series they describe as "exogenous tax changes", shown in blue in the diagram above. They then looked at the correlation between these exogenous tax changes and subsequent GDP growth, and found that exogenous tax cuts tended to be followed by unusually strong GDP growth. Their estimates imply that a tax hike that initially raises tax revenues as a percent of GDP by 1% would lead to a 3% lower value for real GDP 2-1/2 years later, a surprisingly big effect.
Effect on GDP n quarters after an exogenous increase in taxes initially amounting to 1% of GDP, along with 68% confidence bands. Source: Romer and Romer (2007)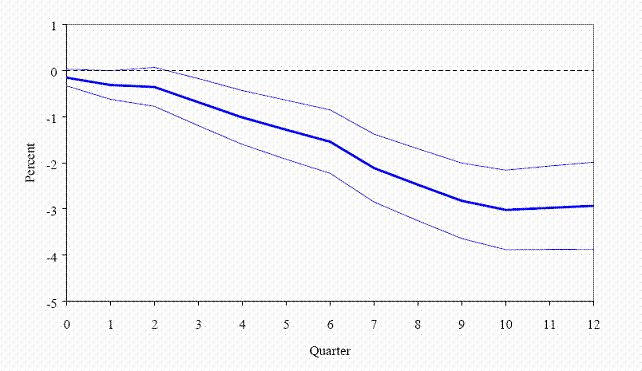 The Romers shy away from then asking the question of interest for tax-cut advocates of whether, as a result of this stimulus to GDP, total tax revenues would eventually actually fall as a consequence of the initial tax hike. It is my impression that the effect reported above is so big that if one asks this question using their methodology, one might well find that they would. The Romers do not explore this question in their paper, however, and have some concerns that other changes after the initial tax change (for example, subsequent legislation undoing the original action) could account for that tax revenue effect.
The potential contribution of such other factors of course also makes it hard to trust estimates such as those displayed above for GDP. For example, the 1981 tax cut did not arrive out of a vacuum, but instead resulted from a political process for which an important determining factor was the poor economic performance under President Carter and in particular the recession of 1979-80. If one believed, as I do, that regardless of fiscal policy, an economic recession is likely to be followed by above-average economic growth as the economy starts to recover, one would attribute at least some of the rapid growth of 1983 not to the fiscal stimulus but to the fact that the economy was recovering from a recession.
Such factors make it difficult ever to be fully persuaded by statistical efforts like the Romers' latest study. Nevertheless, I expect that the Romers' new series may come to be as frequently used by academic researchers as their earlier series on exogenous monetary policy changes has been, and for the same reason– dicey though the approach may be, it is not clear what alternative we have.
UPDATE: Kash has much more.
---
Technorati Tags: macroeconomics