Jim Hamilton's recent post "Bubble, bubble, toil, and trouble" elicited a tremendous amount of commentary — and incredulity — amongst the readers.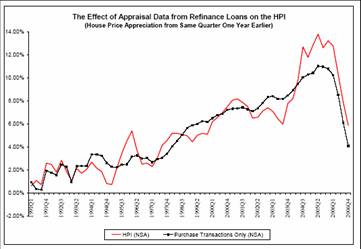 Figure 1: Annual growth rate in OFHEO Housing Price Index and in index of transactions prices. Source: OFHEO March 1st release.

One example of a skeptical view is provided by Aaron Krowne:
Some People Are Still Denying The Bubble




by Aaron Krowne




Sunday, March 25, 2007




"… I was just skimming some blogs I've missed, and found this surprising post from Econbrowser writer James Hamilton, attempting a dismissal of the "housing bubble" thesis (yes, you read that right), which I had to draw attention to. The analysis is rather weak — a conflation of early-stage delinquencies with price appreciation and declines — but that doesn't stop Hamilton from resorting to it."
I believe some of the excited commentary arises from the differences in how economists use the word "bubble" as opposed to how the general public uses the word. This is true despite the fact that Jim has laid out the logic quite clearly in one of his early posts on the topic, "What is a bubble", from June 2005:

"All of which is a rather long diversion before getting to answer the promised question: what exactly is a bubble? Economists would say there's a bubble in the market if home buyers are basing their expectation about the price that they can sell the house for in the future on something other than the affordability and desirability of that home to the future buyer. In a bubble, borrowers are assuming they'll have a capital gain on their house big enough to bail them out of the deep debt they're getting into, even though it would mean an even bigger debt burden for the next folks down the road. But one of those future buyers, if we looked ahead rationally, is going to be forced to say, no sale."
Jim lays this argument out formally as follows. Let:
Ht = st/(1+it) + Ht+1/(1+it)
Where H is the price of a unit of housing, s is the housing services provided per period, i is the interest rate. Then by recursive substitution, one obtains (with a slight modification of Jim's equation):
Ht = st/(1+it) + st+1/[(1+it)(1+it+1)] + st+2/[(1+it)(1+it+1)(1+it+2)] + Ht+inf/[(1+it)(1+it+1)(1+it+2)…(1+it+inf)]
…
Where "inf" is infinity. In other words, the price of a unit of housing is equal to the present discounted value of housing services provided over time.
Pursuing this further, one finds the general solution to this is:
Ht = f[(st+j)/(1+i)t+j] +
g[Ht+T/(1+i)T]
For it+j = i for all j, and f[.] denotes the sum from j=0 to infinity of [.], and g[..] denotes the limit as T goes to infinity of [..].
Typically, economists set g[..] to zero, although mathematically, there is no particular reason to do so. The g[..] object is the "bubble" term, insofar as it represents the possibility of price appreciation in excess of what occurs via discounting.
This expression can be made stochastic by re-expressing the future housing services and interest rates in expected value terms. A "rational stochastic bubble" is then defined as one where the price reflects some expected appreciation not linked to fundamentals. Unfortunately, testing for rational stochastic bubbles is not easy. That is because the time series process for expected fundamentals is not knowable, and indeed the presence of rational stochastic bubbles cannot be distinguished "process switching" (i.e., changes in the underlying process for the fundamentals, as discussed by Flood and Hodrick).
Let me say that while I allow that there might have been a rational stochastic bubble in the housing market, I think that the gradual revelation of improper lending practices and excess risk taking in an environment of inadequate regulation suggests to me another interpretation, laid out in a paper by George Akerlof and Paul Romer in the Brookings Papers in Economic Activity 1993(2), in the context of the Savings and Loans financial crisis of the 1980's:
"Our theoretical analysis shows that an economic underground can come to life if firms have an incentive to go broke for profit at society's expense (to loot) instead of to go for brok (to gamble on success). Bankruptcy for profit will occur if poor accounting, lax regulation, or low penalties for abuse give owners an incetive to pay themselves more than their firms are worth and then default on their debt obligations.




Bankruptcy for profit occurs most commonly when a government guarantees a firm's debt obligations. The most obvious such guarantee is deposit insurance, but governments also implictily or explicitly guarantee the policies of insurance companies, the pension obligations of private firms, virtually all the obligations of large or influential firms. These arrangements can create a web of companies that operate under soft budget constraints. To enforce discipline and to limit opportunism by shareholders, governments make continued access to the guarantees contingent on meeting specific targets for an accounting measure of net worth. However, because net worth is typically a small fraction of total assets for the insured institutions (this, after all, is why they demand and receive the government guarantees), bankruptcy for profit can easily become a more attractive strategy for the owners than maximizing true economic values.

…




Unfortunately, firms covered by government guarantees are not the only ones that face severely distorted incentives. Looting can spread symbiotically to other markets, bringing to life a whole economic underworld with perverse incentives. The looters in the sector covered by the government gurarantees will make trades with unaffiliated firms outside this sector, causing them to produce in a way that helps maximize the looters' current extractions with no regard for future losses…."
Some observers may consider this phenomenon to be the same as their definition of a bubble, and so dismiss this post to being a matter of semantics, but I think this characterization of this episode is more revealing of the underlying forces. And it informs us more of what public policy should seek to do in response to the coming shakeout.
And of course, there is no reason that all three explanations could not be in play — namely that fundamentals (interest rates, unemployment rates), elements of a rational stochastic bubble, and looting all pushing up housing prices in an unsustainable fashion.
Technorati Tags: housing, bubble,
moral+hazard,
looting.