Nominal gasoline prices are at an all time high. However, in real terms, April prices were not the highest. May prices might be, depending on how you calculate it (hard to figure it out since May's CPI is not yet out). From the Washington Post:

Gas Price Close to Historic Record Regular Unleaded Just Shy of '81 Mark





By Steven Mufson
Washington Post Staff Writer
Tuesday, May 22, 2007; Page D01



Gasoline prices last week came within a half penny of tying the modern era's inflation-adjusted record set in March 1981, the Energy Department said yesterday.



The nationwide price of unleaded regular gasoline hit $3.218 a gallon, barely below the adjusted $3.223 a gallon level 26 years ago. Behind the rise were high crude oil prices and disruptions in output at oil refineries.



The 1981 record was set two years after the Iranian revolution brought down the pro-American shah, seven months after war broke out between Iraq and Iran and two months after President Ronald Reagan ended U.S. oil price and allocation controls.



The current rise in prices has been harder for consumers to understand. While Nigerian insurgents have curtailed production by about 800,000 barrels a day, there hasn't been any major cut in crude oil supplies, and crude oil inventories are adequate.



Instead, industry analysts blame a series of refinery accidents, breakdowns and maintenance closings that have choked off enough gasoline production to drive up prices — and refinery profit margins — just before the summer driving season.



…



Crude oil prices don't reflect $3.20-a-gallon gas prices," said Frank A. Verrastro, director of the energy program at the Center for Strategic and International Studies. Europeans pay more than twice as much at the pump because of gasoline taxes.



Francisco Blanch, oil analyst at Merrill Lynch, said in a note to investors this month that the "unprecedented" drop in U.S. gasoline inventories had reduced stocks to "the lowest seasonal point in almost two decades." Blanch said that "refinery outages have curbed domestic gasoline production and imports are not coming through due to stiff competition" from other countries.



Oil analyst Philip K. Verleger estimates that refinery problems have lowered gasoline output by 90 million barrels this year, squeezing supplies.



Top Democrats in Congress jumped on the chance to blame oil companies and the Bush administration. "The oil companies have two words to say about these new record high gas prices: mission accomplished," House Democratic Caucus Chairman Rahm Emanuel (Ill.) said in a written statement. "For six years, Republicans did nothing to make our nation energy independent while handing out taxpayer funded giveaways to big oil. Now the American people are paying the price."

Figure 1 shows gasoline prices (all grades), as recorded by the Energy Information Administration. The May price is for weekly observations through May 21st.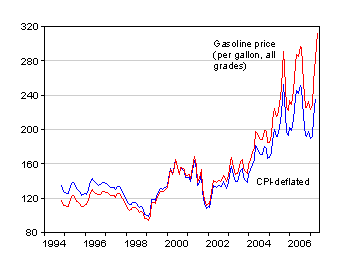 Figure 1:
Nominal (red) and real CPI-deflated gasoline (blue) prices (cents per gallon, all grades). Source:
Energy Information Administration
, and BLS via St. Louis Fed FRED II, and author's calculations.
Examining 12 month changes in log gasoline and oil prices, it does seem like the most recent period has been marked by more rapid increases in gasoline prices relative to oil.
Figure 2:
Twelve month difference in nominal gasoline (blue) and oil (red) prices. Source:
Energy Information Administration
, and BLS via St. Louis Fed FRED II, and author's calculations.
This should manifest itself in bigger a "crack spread", the profit margin a refinery makes by "cracking" petroleum into petroleum products. And this is exactly what is happening, at least according to anecdotal evidence. See e.g., here. What's the time series evidence? I don't have the actual spread series, but I do have the percentage rate from EIA: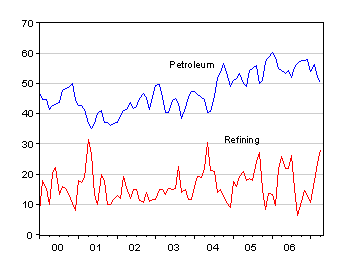 Figure 3:
Share of gasoline prices associated with petroleum (blue) and refining (red), in percent. Source:
Energy Information Administration
.
There's no doubt that the recent refining share has gone higher, although the share has been higher in the past. (Note: With a higher gasoline price, the spread in dollars is going to be higher even with a constant share.) A quick glance reveals obvious seasonality in the refiner's share. To get a feel for how we stand relative to the same time in previous years, Figure 4 presents the refiner's share over the current and past three years.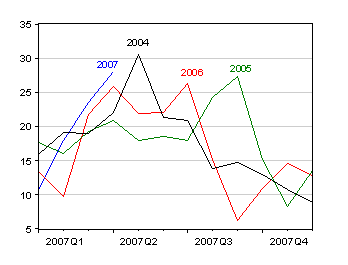 Figure 4:
Share of gasoline prices associated with refining, in 2007 (blue), in 2006 (red), in 2005 (green), in 2004 (black), in percent. Source:
Energy Information Administration
.
The graph confirms the impression that the refiner's share has been particularly high for this time of the year, although there have been higher peaks, specifically in 2004.
One bit of policy analysis. The Washington Post article quotes the assertion that the wide spreads are due to policy inaction over the past six years. There is indeed a temptation to ascribe the wide spreads to cartelization, or opportunistic shutdowns of refineries (and I won't rule either of those out — remember Enron and California in '00-'01…). However, high spreads are also consistent with the view that there is no coordinated reduction of supply and the view that if conservation had been encouraged over the past six years (instead of tax breaks for SUVs), the spread would be smaller. That's because theory predicts that the greater and more inelastic the demand, the greater the resulting price-cost margin.
So one way of thinking about what policies could have mitigated the crack spread is to consider both demand management and supply enhancement. The Administration until recently focused almost solely on the latter.
Technorati Tags: gasoline prices, crack spread,
refiners,
energy conservation