Professor Gordon Dahl (my colleague here at UCSD) and Berkeley Professor Stefano DellaVigna have an interesting new research paper titled Does Movie Violence Increase Violent Crime?
Dahl and DellaVigna note that there is substantial week-to-week variation in how many people in America are watching violent movies based on when particular movies get released. In recent years, the first weekend of a blockbuster new release can capture a huge audience share, as seen in the following graph taken from their paper: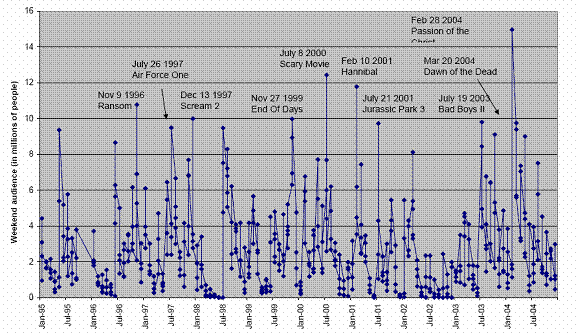 There is also substantial week-to-week variation in the number of violent assaults in the U.S, inspiring Dahl and DellaVigna to look for a possible correlation. They found one, but perhaps not what you would expect– the greater the number of people in movie theaters on a given day watching violent movies, the lower are assault rates, both in the hours people may be in the theaters themselves (6:00 p.m. to midnight) and in the early morning following (midnight to 6:00 a.m.). This finding appears to be robust to the seasonal factors that influence the movie companies' decisions about timing the release of a hoped-for blockbuster, which seasonal factors conceivably would also have some connections with assault rates for reasons unrelated to the effects of the movies themselves. Movies with the most violent content (8-10 on the kids-in-mind.com rating scale) appeared to be most successful in suppressing violent crime.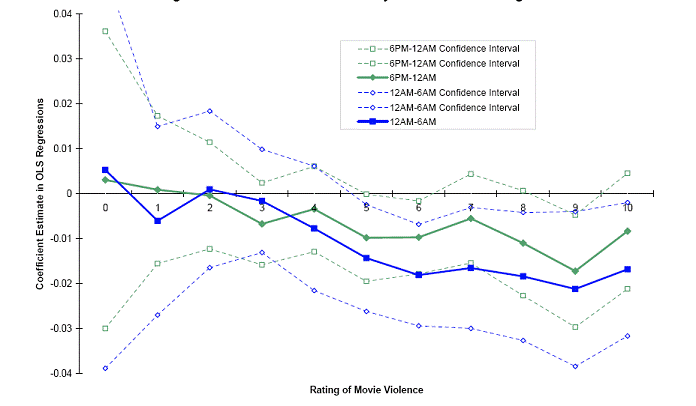 The authors note that there is a large clinical literature that has arrived at the opposite (and more natural) conclusion that watching violent scenes can induce more violent behavior. But they argue that one factor left out of those clinical studies is the incapacitation effect– as long as you're in the theater itself, you're not mugging somebody. Even after you leave the theater, a pattern for the evening may have been set that involves less alcohol consumption and less likelihood of getting into trouble. The more violent the content of the movie, the authors reason, the more likely it is to bring violent people off the streets and into movie theaters.
The conclusion I take away from this is not that we want to encourage Hollywood to cram even more blood per minute into their releases, but rather that there may be substantial public benefits from helping make sure there are constructive activities for young people from at-risk populations to be involved with.
Come to think of it, that might not be such a bad strategy for Iraq as well.
---
Technorati Tags: movie violence