We're still not seeing the deterioration in economic conditions that some had been expecting.
This was another week when we seemed to get highly contradictory signals on the housing market, with the latest data showing existing home sales down 2.6% but new home sales up a staggering 16.2%. As I've been emphasizing, however, it's not really a contradiction, since the new home sales numbers reported on Thursday represent contracts that were signed in April, whereas the existing home sales reported on Friday refer to houses that went into escrow in April, which contracts were likely signed in February or March. And according to the most recently revised new home sales data, new home contracts signed in February had been 3.8% lower than January, while those signed in March were 1.4% below those of February. Thus the latest data for new and existing home sales seem to jibe pretty well.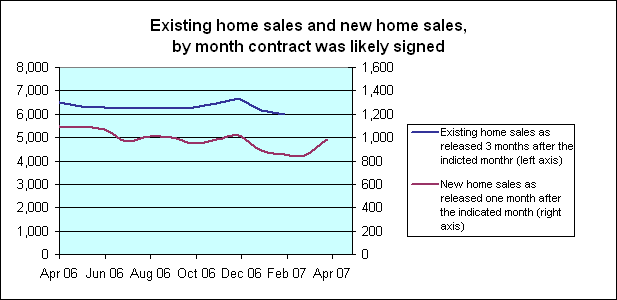 But what about that huge jump in new home contracts signed in April? I share the skepticism about this datum expressed by Felix Salmon,
Barry Ritholtz, and
Calculated Risk. The principle of Bayesian shrinkage says that when you're given noisy new data, the best inference comes from weighting the data back in the direction that you were rationally anticipating before getting the data. A reasonable person would guess that the actual situation is unlikely to be as good as the preliminary April new home sales numbers seem to suggest. On the other hand, I see no way of reading this month's housing numbers as bad news.
The incoming data also continue to allay some of the concerns I had about the earlier sluggishness seen in industrial production:
We've also clearly broken out of the very scary trends that had appeared earlier in new orders of durable goods
and nondefense capital goods (excluding aircraft):
Notwithstanding, I'm still calling for very slow real GDP growth for 2007:Q2. Even if the new home sales data are for real, we still have a long way to go and there are a lot of unsold homes. I viewed last month's job reports as very weak, and there's reason to expect these to worsen. April auto sales were also quite weak, and rising gasoline prices give us solid grounds for anticipating those will worsen also. And I still worry plenty about systemic financial problems.
All of which leaves me very much still feeling like this:
---
Technorati Tags: macroeconomics,
housing