As expected, those very robust new home sales numbers initially reported for April turned out to be too good to be true.
The home sales numbers released yesterday from the Census Bureau significantly revised down the estimate for the seasonally adjusted number of new homes sold in April. April new home sales are now reported to be 5% less than claimed last month, though that still leaves them up 12% from the value now reported for March (with the March figure itself a 2% downward revision of the previously reported March value). May sales are currently thought to have slipped back 2% from April, and Calculated Risk is anticipating more downward revisions from here.
Seasonally adjusted number of new homes sold each month (in thousands of units at an annual rate) as reported by the Census Bureau in May and June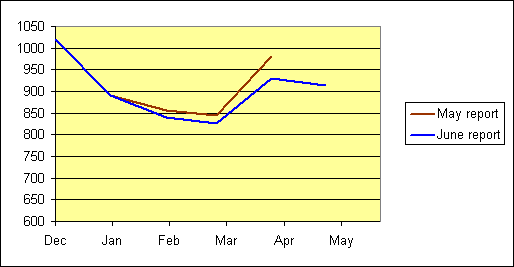 Another way to put this in perspective is to look at the seasonally unadjusted data. As seen in the blue line in the graph below, in a typical year the seasonally unadjusted number of new homes sold would be 40% (logarithmically) higher in May compared to December. This year we already started out with a December value 20% below that of December 2005. And rather than begin to climb, as sales typically do with the start of a new year, the number of houses sold was actually down 7% December to January, attributed in my opinion to tightening lending standards. We've worked a little bit out of that hole since then, but this would still be judged as an unusually weak spring selling season, even if December values had been decent. Here's CR's take:
Typically, for an average year, about 44% of all new home sales happen before the end of May. At the current pace, new home sales for 2007 will probably be under 900 thousand– about the same level as the late '90s. This is significantly below the forecasts of even many bearish forecasters.
Meanwhile, inventories of unsold existing homes continue to grow. The tightening credit, drop in housing demand, and worries of big financial losses have so far come in an environment without big real estate price declines. The inventory picture surely makes the latter a significant possibility at the moment, and falling real estate prices could in my mind substantially aggravate each of those three problems. At best, the latest data persuade me that significant problems with housing are likely to persist for some time yet.
Will strength elsewhere be sufficient to keep the economy growing? The Commerce Department reported today that nondefense capital goods orders (excluding aircraft) fell 3% in May
and manufacturers' new orders for durable goods fell 2.8%:
The Federal Reserve's index of industrial production also slipped a bit this month. Nor should you be happy about falling consumer sentiment.
Where's the good news? Last month's employment numbers looked quite solid. But I've become persuaded that the BLS establishment survey could well be overstating employment, and the BLS household survey has shown zero net employment growth so far in 2007. I had also been taking encouragement from rising interest rates and stock prices. But both of those financial trends have also been reversed over the last two weeks.
I think there's no avoiding the conclusion that the latest news should have tipped an objective observer a bit more in the bearish direction, and might be just enough to bring a frown back to our Little Econwatcher's face

---
Technorati Tags: macroeconomics,
housing,
recession