Rising rates look scary, but I still read it as good news.
Weekly nominal yields on 30-year fixed interest mortgages (Thursday figures) and 10-year constant maturity Treasury yields (Monday figures). Reasons for aligning Thursday with Monday values are given here.
Data sources: FRED ([1], [2]) and Freddie Mac
.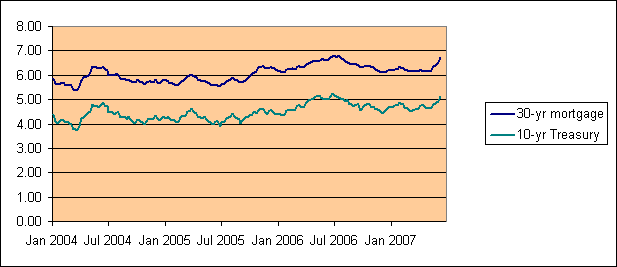 The upward spike in long-term Treasury rates this last month was matched by 30-year mortgage rates, putting us essentially back where we were last summer. Given the lags in the response of home sales to mortgage rates, that will be a factor depressing home sales this fall, mirroring the stimulus I believe we observed last fall. And that depressing effect will come on top of the drag already being exerted by tightening lending standards and inventory of unsold homes.
It's still a little surprising to me that this move seems entirely to be driven by a very rapid rise in long-term real interest rates rather than an increase in expected inflation, but that is the only conclusion one can draw from the yield on inflation-indexed Treasury securities. Recall that both the coupon and principal on these are linked to the headline (not the core) CPI. Whatever investors were responding to, it does not seem to be fears about the future path for the CPI.
Daily values for inflation-indexed 10-year constant maturity Treasury bond. Source: FRED.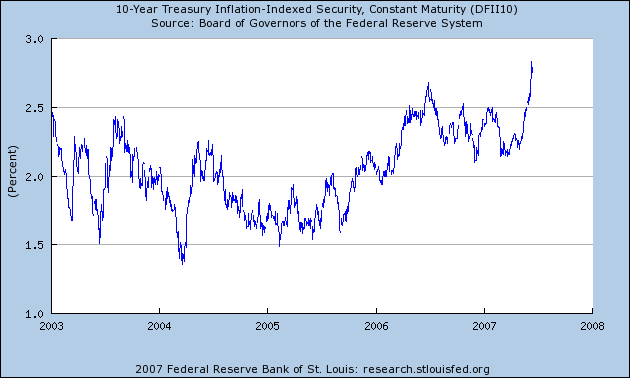 Could this dramatic rise in real rates be due to a sudden decrease in the willingness of foreigners to buy U.S. debt? Such a shift should also show up in exchange rates. There has been a gradual slide in the dollar this year, but if anything the dollar has strengthened during the period when long rates were rising most dramatically:
Daily trade-weighted value of the dollar. Source: FRED
.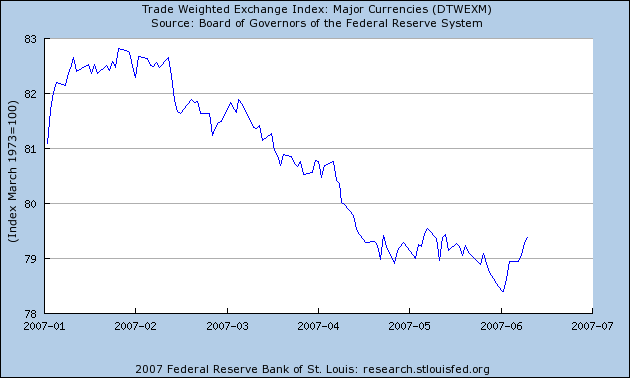 What about perceptions that the Fed is more hawkish than before? Again it is true that market perceptions this year have gradually been moving away from the notion that the Fed would ease, as reflected for example in the price of the October contract, which has moved from anticipating a cut in the fed funds rate to 5% to a belief that the Fed will hold steady at 5.25%. But again, most of this adjustment in expectations was completed prior to the recent spike in yields.
Price of the October fed funds futures contract. Implied expected interest rate is 100 minus the number shown. Source: Chicago Board of Trade
.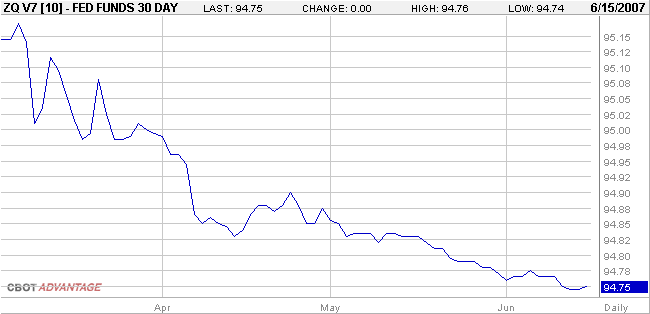 Moreover, if this were purely a rise in real rates induced by either international factors or the Fed, I would have expected to see stock prices fall significantly. If expected future profits and dividends are held constant and the rate at which they are discounted goes up, the stock price would have to fall. Yet we have seen stocks hold their own, even as bond prices plunged, suggesting that rising yields have come at the same time as rising expectations of future profits and dividends.



So I want to stick with my story that the biggest factor driving long-term yields must be increasing optimism about the real economic outlook. But I admit that it's hard to see how housing could be part of that optimistic picture.
---
Technorati Tags: macroeconomics,
Federal Reserve,
interest rates,
housing