Some readers keep asking me, If U.S. refining capacity is such a big issue, why don't we just import more finished product?
From Friday's North Texas Star Telegram:
[N]o refinery has been built in the United States in three decades, only one is in the works, and oil companies are scaling back planned investments in new, expanded or modernized U.S. refineries rather than increasing them. Overseas, however– where it's generally cheaper, faster and easier to build oil refineries– a boom in construction is under way to meet the growing demand for gasoline in the United States and in big developing countries such as China and India. That means Americans increasingly will be filling their tanks with imported gasoline…

"We are outsourcing refining," said Severin Borenstein, an economist and energy expert at the University of California, Berkeley. "I think that this is primarily because of community resistance … people don't want to live by refineries, but they still want the gasoline."
Last week the U.S. imported 1.6 million barrels per day of motor gasoline, a near-record quantity, and an order of magnitude bigger than the quantites that the U.S. imported thirty years ago. Yet as Robert Rapier correctly observes,
If gasoline imports hadn't been so strong (also something I have been predicting) then we could have actually seen a draw [last] week. If imports [last week had been at the previous] week's level– which was itself pretty healthy– we would have seen nearly a 1 million barrel draw on gasoline stocks. That would have likely set the market back on fire, and demonstrates just how dependent summer prices are on gasoline imports.
I've commented before that the seasonal in U.S. gasoline prices has become much more pronounced since the introduction of Phase II reformulated gasoline requirements in 2000. Another factor is that gasoline prices have to rise enough each summer to attract the necessary additional imports from abroad:
U.S. gasoline imports (two-week averages, in thousand barrels per day, left scale) and average retail gasoline price (in cents per gallon, right scale).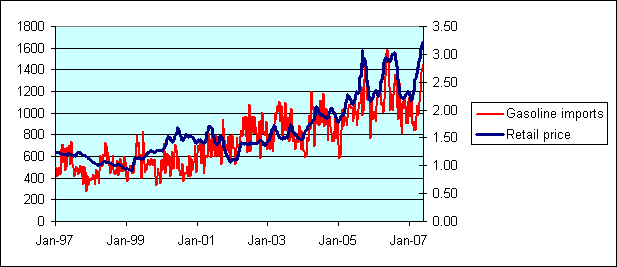 Historically, refineries had been located near the markets whose demand they serve, which makes perfect economic sense. However, a key comparative advantage of foreign refineries today may well be the fact that their construction is not subject to the U.S. system of regulatory delays and judicial challenges.
There are many factors that influence the total quantity of goods and services that the U.S. imports, not least of which is what is going on with U.S. borrowing and international capital markets. But we will certainly need to see some adjustments on the real side to reduce the trade deficit. Finding places where we can make those adjustments could be a big challenge.
Keeping the value-added from petroleum refining within U.S. borders strikes me as one very logical place we could try to do that.
---
Technorati Tags: gas prices,
gasoline prices,
refining