Typically, people think of the euro as the most likely competitor to the dollar. And maybe it is in the long run (see these posts [1], [2], and this paper). But in the short term, maybe it's the British pound.
Here's the table from the latest IMF COFER release: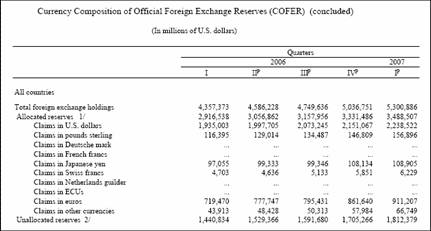 Some interpretation from IDEAglobal (July 5):
…There are three pincipal take away points: 1) The dollar's share of official FX reserves around the world has fallen as a percentage of overall reserves. … 2) EUR denominated reserves have grown at a faster pace than USD denominated reserves, but only very marginally when adjusted for currency movements. 3) The GBP continues to be the main beneficiary of reserve diversification (in percentage terms).


The foreign exchange reserves of the world's central banks continued to grow at a rapid pace in Q1 2007 of 5.2% q/q and 21.7% y/y. US dollars now represent 64.2% of official reserves around the world. This compares to 64.6% in Q4 2006 and 66.4% in Q1 2007. EUR denominated reserves increased to 26.1% in Q1 2007 from 25.9% in Q4 2006 and 24.7% in Q1 2006. GBP denominated reserves also rose, increasing to 4.5% in Q1 2007 from 4.4% in Q4 2006 and 4.0% in Q1 2006. On the other hand, JPY denominated holdings declined to 3.1% in Q1 2007 from 3.3% in Q4 2006, which was unchanged from the 3.3% in Q1 2006. However, the dollar's slide as a percentage of overall reserves is not due to central bank selling of USD denominated assets. In fact, central banks purchased $87.5 bln in USD denominated assets in Q1 2007. This is far greater than the $49.6 bln of euros and the $10.1 bln of GBP purchased during the same time period. The dollar's relative decline is explained by its depreciation and by the slightly faster pace of EUR denominated (and other currencies) purchases in percentage terms.

Of course, the caveat is that there is a tremendous question mark in the form of unallocated reserves…
Technorati Tags: href="http://www.technorati.com/tags/dollar">dollar,
reserve accumulation,
euro,
British pound