The CBO has released its budget and economic outlook update.
One graph from the slides seems to indicate all is well, with the budget balance under current law going to surplus by FY2012.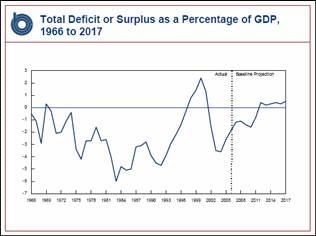 Source:
CBO Budget and Economic Outlook Update slides (Aug. 23, 2007)
.
What is important to remember is that — as the document itself stresses — the projections are under current law. One important aspect of this caveat is that this means the provisions of EGTRRA and JGTRRA are allowed to expire in tracing out this scenario, a path that President Bush has opted against. A second point is that the curent budget deficit is one being run at full employment (see the discussion in this post). If the economy were to go into a marked slowdown, or even maintained growth where the distribution of income were to skew towards lower income deciles (think about the Wall Street bonuses disappearing), or the economy were to descend into recession, then one would obviously expect the deficit to balloon.
To highlight what is more likely as — if not more — plausible, even if the economy maintains relatively healthy growth over the next few years, assume (1) the tax cuts are made permanent, (2) troop levels in Iraq, Afghanistan and other GWOT activities are reduced to 75,000 by 2013, and (3) discretionary spending rises with the growth rate of nominal GDP. This yields the following graph.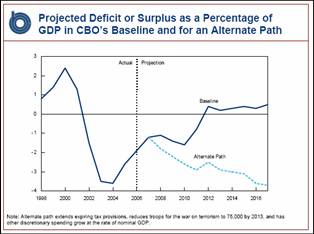 Source:
CBO Budget and Economic Outlook Update slides (Aug. 23, 2007)
.
Of the FY2017 gap between projected and alternate, $316 billion is accounted for by the extended tax cuts, $265 by faster (and given history, more realistic) growth in discretionary spending, and -$120 billion by the reduction in troop levels.
Technorati Tags: tax cuts, budget deficits
fiscal policy, and
full employment budget surplus