Glad I wasn't trying to provide a play-by-play explanation of fed funds futures last week. But whatever was going on, we seemed to end up with the same conclusion with which the week began.
A week ago I offered my (invaluable yet nonetheless free) opinions as to what was driving fed funds futures. At that time I opined that the market shared my pessimistic interpretation of the most recent economic data, and that a fed funds rate cut by the October 30/31 meeting now seemed fairly likely. Monday seemed to tell the same story, but on Tuesday and Wednesday, the fed funds futures retracted, with the November contract falling back down to a price of 94.875 (corresponding to an expected November fed funds rate of 5.125%, which would be consistent with a 50% or greater chance of no cut at all from the current 5.25% target), only to surge back up again on Thursday and Friday to 95.095, consistent with an expected November interest rate below 5%. If I had offered a play-by-play, I suppose I would have described this as a surge in optimism midweek that was beaten down and then some by week's end.



Price of November fed funds futures contract (subtract from 100 to get implied interest rate). Source: CBOT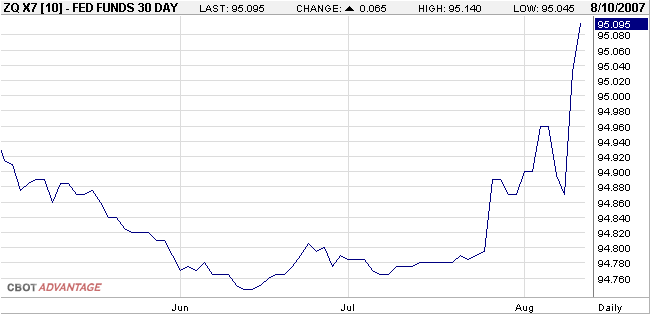 One sees a similar pattern in stock prices, though these ended the week slightly positive,
and long-term bond yields, presuming you buy my thesis that in the current environment, rising yields tend to signal expectations of improving real economic activity.
The end-of-week pessimism is perhaps easily attributed to the latest liquidity events. But what was the favorable, if ephemeral, news on Tuesday and Wednesday? If I knew the answer to that, perhaps my invaluable advice would be less free.
But a week later, I'm still worried, and it looks like I have plenty of company.
---
Technorati Tags: macroeconomics,
Federal Reserve,
interest rates,
yield curve,
fed funds,
fed funds futures,
economics