From IDEAGlobal, FX Alert, August 21:
MONEY MARKET DISLOCATION WORSE THAN IN 1998





The spread between the 3 months cash rate and
the policy rate in the US, Eurozone and UK has
jumped during this period of financial turbulence
more than it did on the occasion of the Russian
default/LTCM debacle in 1998. A similar pattern
can be observed also for the spread between O/N
rate and the policy rate. This is due to the
dislocation observed in the money markets around
the world originated by the liquidity crisis caused
by the very restrained conditions in the commercial
paper market.


…

While this is not news to almost anyone reading the financial press, I wasn't aware of how severe the situation is outside of the US and the euro zone. The text continues.
The most serious situation is in the UK,
where the 3mths – repo rate spread has
widened by 50bps to 100bps in the current
environment (please see Chart 3), practically
equivalent to two BoE 25bps rate hikes in terms of
market squeeze. In 1998, the same spread
remained in the 15/35bps area during the crisis
(was negative after the CBs interventions).




…


Brunello Rosa
Here's one picture that summarizes the UK situation.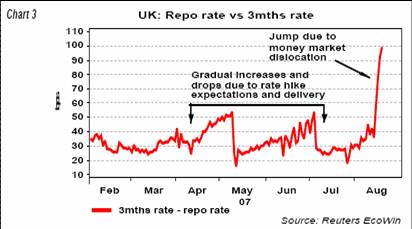 Chart 3
from IDEAGlobal,
FX Alert
, August 21.
So, don't be fooled by sidewise trending in equity indices…and buckle your seat belt!
Technorati Tags: financial crisis,
LTCM,
money markets.