Macroeconomic Advisers says the probability of recession is less than 50%.
"While it suggests the probability of a recession has gone up in the last month it is still well below 50 percent," Prakken told Reuters. "It's a slightly higher higher risk than it was a month ago but it's still not a dominant risk."
Based on August data, e-forecasting cites in their newsletter (no link) a 34% probability based on their leading economic indicator index, a composite of seven variables, with weights inversely related to the component variability (documentation here).
The figure below shows how the probability of recession has risen according to the e-LEI.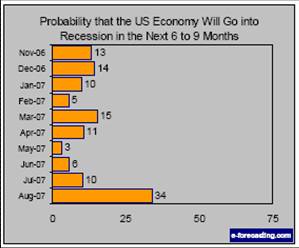 Figure from e-LEI September newsletter.
In contrast, coming from a non-scientific direction, WSJ is doing an online poll of recession predictions. When I checked (8pm Eastern on Thursday), 48% said the economy in the next six months will — or has already gone — into recession; 52% said no recession.
Finally, something from the prediction markets. MidasOracle has some interesting graphs showing the evolution of the intrade's views on recession probabilities in 2007 and 2008. It looks like the bettors are guessing over 45% probability in 2008 (although on low volume), as shown in the figure below.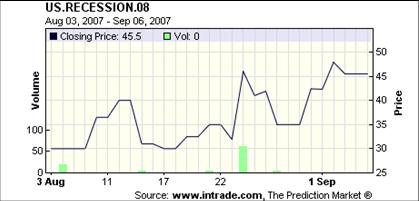 Figure from MidasOracle.
Technorati Tags: href="http://www.technorati.com/tags/recession">recession,
leading economic indicators,
prediction markets.