How should we interpret yesterday's announcement from OPEC?
Bloomberg described yesterday's developments this way:
The new [OPEC-10] production target set today effectively erases most of a prior agreement made late last year for those 10 nations to cut production by 1.7 million barrels a day, to 25.8 million barrels a day. The new target of 27.2 million barrels a day is for those same 10 members, which excludes Iraq and Angola.
Here's how OPEC's website characterized the previously applicable production quotas:
For example, the table states that Venezuela had agreed to a production ceiling around 3.1 mb/d at the beginning of 2005, which was raised to 3.2 mb/d for the second half of the year. And here's how those ceilings compare with what Venezuela actually produced (crude oil production excluding lease condensate) according to
Table T12 from the Energy Information Administration: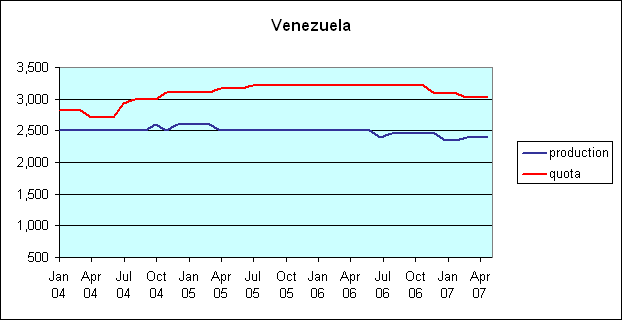 It's hard to see a close connection between Venezuela's ceiling and its actual production. The same is true for the other OPEC members. Some produce significantly more and others significantly less than their alleged quotas. The previous agreements reached in October and December of last year acknowledged this state of confusion, with OPEC at those meetings evidently agreeing to "cuts" in the production quotas (indicated in the last two yellow columns of the tables above) without formalizing what levels these cuts were supposed to be defined relative to.
So where does this 25.8 mb/d figure for the previous aggregate OPEC-10 production ceiling come from? The only reference to this number that I could find on OPEC's website was the following statement in the April 2007 Bulletin:
OPEC's two recent Meetings– in Doha, Qatar, in
October last year and then in Abuja, Nigeria, two months later– committed 10 of OPEC's 12 Members (Angola and Iraq are exempt) to withdraw a total of 1.7 million barrels per day of crude oil from the international market. The first accord, which came into effect on November 1, reduced the production ceiling by 1.2m b/d to 26.3m b/d, while the second agreement entailed a further cut of 500,000 b/d and came into force on February 1.

The Conference, which convened at the Organization's Secretariat in the Austrian capital, decided that the current output ceiling for the OPEC-10 should remain at 25.8m b/d for the summer months.
So evidently there had been an understanding of the totals for the new levels across the OPEC-10, if not a public declaration of what the values for individual countries had been. This I can only interpret as an even looser bound on individual countries than had been in place for 2005 and 2006. In any case, whatever the 25.8 mb/d was supposed to signify, it didn't correspond to what the OPEC-10 were actually producing, which EIA Table 12 gives as 26.3 mb/d for May and
Rigzone reported as 26.6 mb/d.
The rather uninformative OPEC press release itself summarized yesterday's change this way:
the Conference decided to increase the volume of crude supplied to the market by OPEC Member Countries (excluding Angola and Iraq) by 500,000 b/d, effective 1 November 2007.
Well, can we trust that this will be the amount by which production actually changes, even if the agreed-upon starting and ending production ceilings remain a bit murky? I hardly think so. The following table is reproduced from my post two months ago:
Cuts in production ceiling determined by OPEC on October 20 and December 14, and actual cumulative production decline between October 2006 and April 2007, in thousand barrels per day

Country
Oct
announced
Dec
announced
Total
announced
Actual
decline
Algeria
59
25
84
30
Indonesia
39
16
55
10
Iran
176
73
249
50
Kuwait
100
42
142
130
Libya
72
30
102
20
Nigeria
100
42
142
130
Qatar
35
15
50
60
Saudi
380
158
538
200
U.A.E.
101
42
143
100
Venezuela
138
57
195
50
Total
1200
500
1700
780

Even with what would appear to be substantially more sharply defined agreements than emerged from yesterday's meeting, the production decisions announced by OPEC last year were at best a very crude predictor (ok, bad pun) of what each country actually ended up doing.
These are the kinds of facts that have led me to view OPEC not as a functioning cartel, but instead as a group of countries loosely announcing what individually they'd each pretty much want to do on their own anyway. I see the primary role of OPEC today as one of orchestrating political theater. For countries like Iran and Venezuela, it plays well for domestic politics to pretend that they are championing the cause of higher oil prices. For countries like Saudi Arabia and Kuwait, it lets them pose for an international audience as if their production decisions were somehow forced on them by the other OPEC members.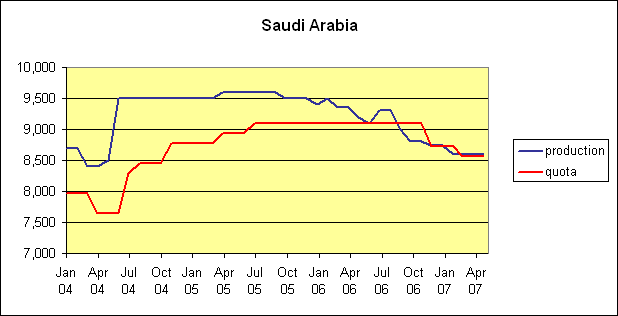 The one country for which I read some news into the latest OPEC announcement is Saudi Arabia. If the OPEC-10 are about to increase production, a significant chunk (more than half, I'd guess) must be expected to come from the Saudis. I doubt very much that OPEC would have made an announcement such as the one yesterday unless the kingdom intended to boost production by several hundred thousand barrels a day beginning in November. The interpretation that I have been favoring for why Saudi production fell by a million barrels per day over the last two years is that production from northern Ghawar, their most important oil field, has peaked. Furthermore, the recognition that higher oil prices have not led to as big a reduction in demand as we might have expected historically leads them to want to extract the remaining reserves more slowly. The Saudis have made big investments in developing other sources such as southern Ghawar and Qatif. I take the OPEC announcement as confirmation that these other sources are producing enough that the Saudis feel they can comfortably increase production by a few hundred thousand barrels per day. I don't have any particular confidence that we'll actually see a 500,000 b/d increase from OPEC as a group, but a few hundred thousand seems pretty reasonable to expect. This is of course better than the most dire assessment of the Saudi situation, but a long way from implying that the kingdom will be back up to its previous peak of 9.6 mb/d any time soon.
And that, in my opinion, is why the announcement that OPEC has increased its production quota from 25.8 to 27.2 mb/d was greeted by oil prices flirting with an all-time nominal high.
---
Technorati Tags: oil,
oil prices,
Saudi Arabia,
oil supply,
energy economics,
economics,
peak oil,
OPEC