Oil shocks in 1973, 1979, and 1990 were each followed by a recession. But we saw the price of oil climb from $20 a barrel in 2002 to $75 a year ago, and so far it has not resulted in a significant economic downturn. What's different now, and can we count on it to continue?
Dollar price per barrel of West Texas Intermediate divided by ratio of CPI for the indicated month to the present value.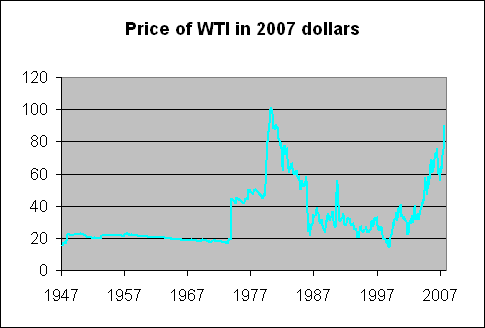 The question of why the economy may be less vulnerable to oil price shocks today has been examined by a number of recent academic studies. A new paper by Olivier Blanchard and Jordi Gali identified four factors as all making a contribution:
(a) good luck (i.e. lack of concurrent adverse shocks), (b) smaller share of oil in production, (c)
more flexible labor markets, and (d) improvements in monetary policy.
A study last year from the Congressional Budget Office emphasized a similar list of favorable developments.
Jerry Taylor and Peter VanDoren review some of the other evidence, and conclude:

All the new analyses agree that the more flexible economy that we have now, allows us to cope more easily with oil price shocks…. It is time for America to get over its inordinate fear of oil shocks. Soaring prices aren't pretty, but they are scarcely the existential threat to our economy posited by many.
Munechika Katayama, a Ph.D. candidate here at the University of California, San Diego, also has an interesting new study on this question. Katayama notes that regulation of the transportation sector during the 1970s resulted in excessive monopoly power and inefficiencies in the trucking industry, and suggests that deregulation may have been another factor that has helped the economy to respond more flexibly to oil price changes.
Katayama builds a dynamic model of the dependence of intermediate-good deliveries on the transportation sector, and simulates the response of aggregate output to a 10% increase in the price of oil. The blue curve in the figure below gives the prediction from his model for the economy as it was configured in the mid-1970s, and implies that an oil shock of this size might reduce aggregate value added by more than 1%. The fuchsia curve is the simulation rerun with just a single change, namely, a greater degree of competition in the transportation sector, as would be implied by the observation that markups in trucking have fallen from 35% in 1977 to near zero today. The red line is the implied path if transportation still exhibited as much regulatory-supported monopoly as it did in 1977, but the share of energy in total output had changed by the amount observed since 1977.
Horizontal axis: number of quarters after oil price goes up. Vertical axis: percent deviation of aggregate real value added from trend. Source: Katayama (2007).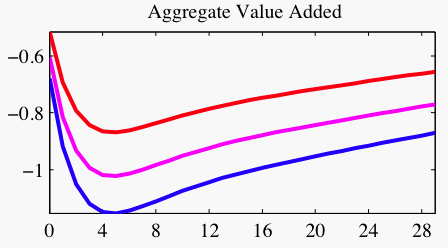 When the two effects are combined together along with the observed decreased serial correlation of oil price changes, Katayama concludes that today's economy would respond significantly less than the economy of 1977 to a 10% increase in the price of oil.
Blue curve: simulation based on conditions in 1977. Fuchsia curve: simulation based on lower transportation markup, improved energy efficiency, and reduced serial correlation of real oil prices as exhibited in the post-1984 data. Source: Katayama (2007).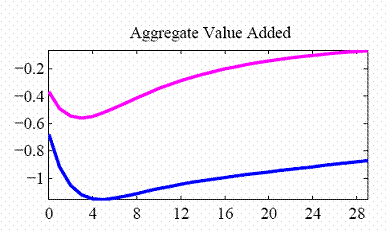 By the way, Katayama is currently seeking a job, and I'd encourage any departments who want someone with strong research and communication skills to take a look at him.
One idea that all of the studies mentioned above have in common is the attribution of a significant part of the declining importance of oil shocks to the increased efficiency in energy use, a theme emphasized again this weekend by Mark Perry, Greg Mankiw, and Mike Moffatt. In almost all of the models with which I am familiar, the key parameter that matters for this is the ratio of the dollar value of energy purchases to the dollar value of GDP. Here's a rough graph of the value share of crude oil over the last 40 years:
One hundred times the ratio of (1) annual average of monthly WTI price per barrel (from FRED) times annual U.S. crude oil consumption (from EIA) to (2) annual nominal GDP (from BEA Table 1.1.5), with 2007 values based on average for first 6 months of year.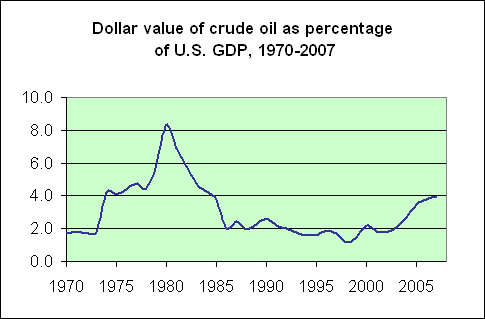 Before we become completely relaxed about this magnitude, it's worth emphasizing that its behavior is not a long-run downward trend, but instead a U-shape for which we are currently on the way back up. There is a very simple economic reason for this. The price elasticity of oil demand is substantially less than one, meaning that when the real price of oil goes down (as it chronically did between 1981 and 1997), the share of energy expenditures in total GDP will also decline. This fact, rather than the pure efficiency gains that many researchers often think of first, is a very important reason for the declining share of oil in GDP over this period. As oil prices go back up, however, this is starting once again to become a bigger factor in the budgets of consumers and firms– a 10% increase in the price of oil is harder for any of us individually to shrug off today than it was in 2003.
I would also note that although the domestic auto sector is less important for the American economy today than it was in the 1970s, it is still quite significant, particularly with the housing downturn subtracting 1% from real GDP growth each year. We can avoid a recession only as long as consumers and firms remain as confident as Taylor and VanDoren above, and everything outside of housing continues to do well.
Should we count on that as oil surges to $90 and beyond? I am not so sure.
---
Technorati Tags: oil,
oil prices,
oil shocks,
recession,
economics