As many of us were anticipating, today's employment data released by the BLS showed substantially stronger job growth for September.
Seasonally adjusted nonfarm payroll employment was reported to have increased by 110,000 net new jobs during September. That's probably not enough to keep up with population growth, but is substantially better than what you'd expect if we were in the early stages of an economic recession.
But the striking thing about today's numbers is that the BLS declared the early signals of job loss for August to have been a false alarm. Last month, the BLS had concluded on the basis of their establishment survey that nonfarm payrolls declined by 4,000 jobs in August. Today, they changed their mind, and decided that nonfarm payrolls had actually increased by 89,000 workers in August. And although their separate estimate of August employment based on a survey of households was not revised, the 316,000 loss the BLS says occurred in August was followed, they now say, by a 463,000 gain in September. Go figure.
Perhaps the best you can do with data like these is to try to recognize the longer run trends, by looking at the year-to-year change in the seasonally unadjusted numbers. Such a transformation will leave you a little slow to recognize a turning point, but gives a lot of useful averaging for such noisy data as these. Bad as they are, I believe we can infer from the payroll numbers that job growth is continuing, but at a clearly slower pace than previously.
Data source: BLS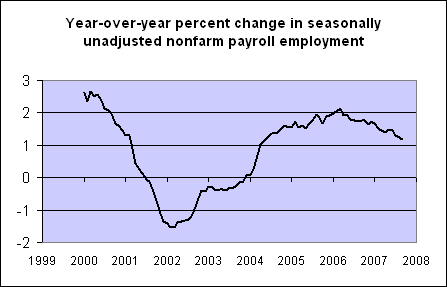 The BLS household numbers paint the same broad (if even noisier) picture,
Data source: BLS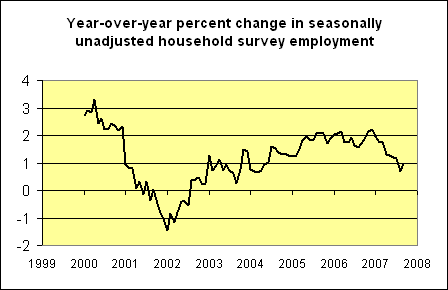 as does a separate third measure of private nonfarm employment based on the 23 million payrolls processed by Automatic Data Processing:
All of which suggests an economy that is growing– more slowly than usual, but growing. I remain deeply concerned about what's ahead for housing and financial stability. But we introduced our Little Econ Watcher as a device for summarizing the broad tendency of recent incoming numbers. As I detailed on Wednesday, the fears I'd had for such sectors as autos, consumption, and employment have not yet been confirmed with hard data. Besides, I'm getting tired of that little frowning face. So for the time being, here's how I see it:

---
Technorati Tags: BLS,
employment