Fret as we all might, the U.S. economy just keeps on growing.
The Bureau of Economic Analysis reported today that U.S. real GDP grew at a 3.9% annual rate in the third quarter. Housing remains in very bad shape, and subtracted a full percent from that total, just as it's been doing for the last year and a half. But solid growth in nonresidential fixed investment was almost enough by itself to make up for the weakness in housing, and given the strength in exports and consumption spending, we came out with an above-average growth rate under pretty tough circumstances.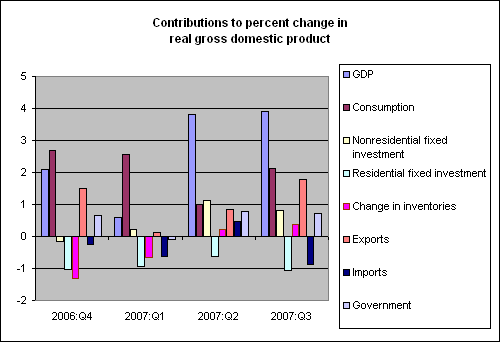 The new GDP numbers are sufficient to silent the alarm signal from our recession probability index, which previously had been climbing as a result of anemic growth rates at the end of last year and start of 2007. The index stood at 26.2% for 2007:Q1, but is now back down to 9.5% for 2007:Q2. This index is not a forecast of what may come next, but rather is an assessment of where the economy was as of the second quarter of this year. The index reports the state of the economy with a one quarter lag in order to allow for data revisions and to wait for confirmation from subsequent data before making a recession call.
The plotted value for each date is based solely on information as it would have been publicly available and reported as of one quarter after the indicated date. Shaded regions represent dates of NBER recessions, which were not used in any way in constructing the index, and which were sometimes not reported until two years after the date.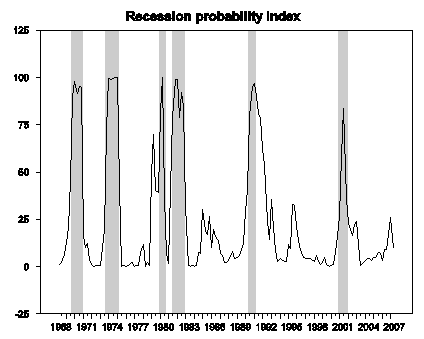 ---
Technorati Tags: GDP,
recession probability,
recession probability index,
macroeconomics,
economics