In updating a graph of the projected debt-to-GDP ratio, I was only slightly surprised to see that the out-years (still) look pretty grim.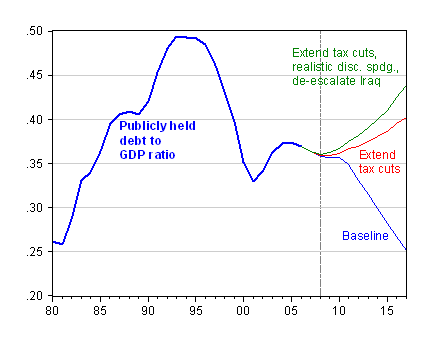 Figure 1: Publicly held Federal debt to GDP ratio, by fiscal year (thick blue line); and baseline projection (blue); extend EGTRRA, JGTRRA, other expiring tax provision, and AMT indexing (red); and extend tax cuts, discretionary spending grows with nominal GDP, and reduce Iraq troop levels to 75,000 by 2013 (green). Source: CBO, The Budget and Economic Outlook: An Update August 23, 2007, and author's calculations.
To reiterate, the baseline is calculated under current law, and assumes the tax cuts expire, starting in FY2008. But some observers have argued that extending the tax cuts need not result in rising debt-to-GDP ratios. These figures show that's pretty implausible. More likely, given historical trends, is an increasing debt ratio, even if we reduce troop levels in Iraq to 75,000 by 2013.
Should one believe that FY2008 real GDP should grow slower than the August 23 projection (2.9% year-on-year), well then, the short term looks a bit worse under any scenario.
This is being submitted to the Facing Up Blog Carnival on the $9 trillion debt
Technorati Tags: href="http://www.technorati.com/tags/budget+deficit">budget deficit,
national debt financing,
tax cuts.