Do the ongoing surge in gold and oil prices and slide in the dollar signal a resurgence of inflation?
Gold climbed over $830 an ounce this week,
while oil held its ground at $96 a barrel:
The dollar fell to 0.68 euros, setting a new all-time low each day:
Exchange rate (euros per dollar). Source: Yahoo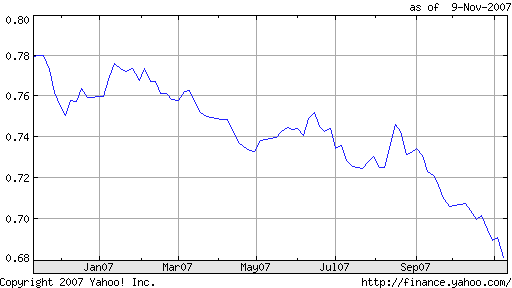 Each of these developments means a decrease in the purchasing value of a dollar– a dollar will buy you significantly less gold, less oil, and fewer euros than it would have in September. It is thus natural to wonder if the three developments might be related manifestations of a single phenomenon, namely, a resurgence of inflation.
It is important to remember first the scale of these figures. Gold is up 24% and oil 34% since the beginning of September, while the dollar has only slid 7%. The price of gold and oil has gone up substantially for everybody in the world, regardless of the currency used to buy them. You would have had to surrender 61 pounds of coffee to get a barrel of oil in September. Today you'd need 79 pounds of coffee to get that oil. The explanation of that fact should have little to do with the value of the dollar or inflation.
Granted there is a direct implication of rising oil prices for inflation in the sense that a dollar now buys less than it did. But if 4% of your income is spent on oil and the oil price goes up 34%, your cost of living has only gone up by 1.4%. Imports overall would represent a higher fraction of spending than energy alone, but the prices of imported goods will likely increase by significantly less than the amount of the dollar depreciation. So certainly there are implications of the movements in oil prices and the dollar for the overall inflation numbers that we'll be seeing in the next few months, and when translated into an annual rate, these numbers are big enough to be noticed. But the actual inflation picture must be an order of magnitude smaller than that conveyed by oil, gold, or the dollar alone.
Is there a case that these three markets might be regarded as early harbingers of broader increases in the dollar prices of other goods and services that are yet to come? Certainly inflationary expectations could be a factor driving all three markets. But I would expect a broad inflation fear to show up first in long-term nominal interest rates, and these have in fact been sinking lower over the last few months.
Nominal yield on 10-year U.S. Treasury bond. Source: FRED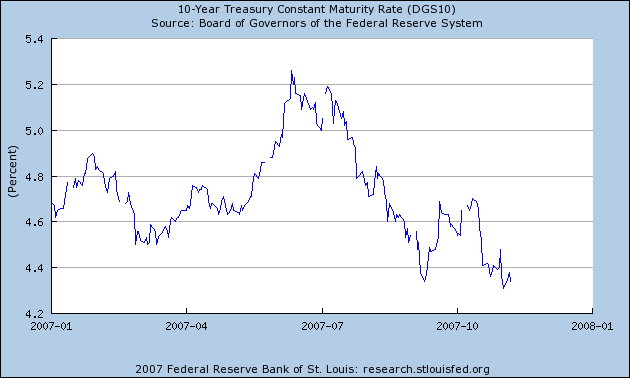 Consider also the Treasury Inflation Protected Securities, whose coupon and principal are both guaranteed to rise with the consumer price index. The nominal yield minus the TIPS yield should reflect investors' concerns about future CPI inflation. This gap has in fact been declining over the last two months.
I am therefore inclined to interpret the increase in the relative price of oil and gold as driven by real rather than nominal events. In the case of oil, the stagnation of global production strikes me as far more important than anything done by the U.S. Federal Reserve. Geopolitical tensions in places such as Pakistan, Iran, and Iraq could lead to further disruptions in world oil supplies and are likely a factor in gold's run-up as well, as would be ongoing concerns about financial instability in the U.S.
To the extent that there is a monetary explanation for the recent behavior of oil, gold, and the dollar, I would attribute it not to inflation fears per se, but rather to the lowering of U.S. short-term interest rates, which make the dollar a less attractive place to hold capital and can make commodity speculation more profitable.
But insofar as these relative price movements do themselves have undeniable direct inflationary consequences, they are hardly developments that the Federal Reserve is free to ignore. The fact that long-term inflation expectations have been slow to move up in response to recent events has been an asset for the Fed so far. But if those expectations do start to move up, that same sluggishness will become a significant problem as the Fed looks for some way to bring them back down.
---
Technorati Tags: macroeconomics,
Federal Reserve,
interest rates,
inflation,
commodities,
oil,
oil prices,
gold,
exchange rates,
dollar