The nation borrowed from the rest-of-the-world when interest rates were low. But interest rates can adjust. So can exchange rates. What to think of our creditors re-appraisal of the "right" effective interest rate to lend to us?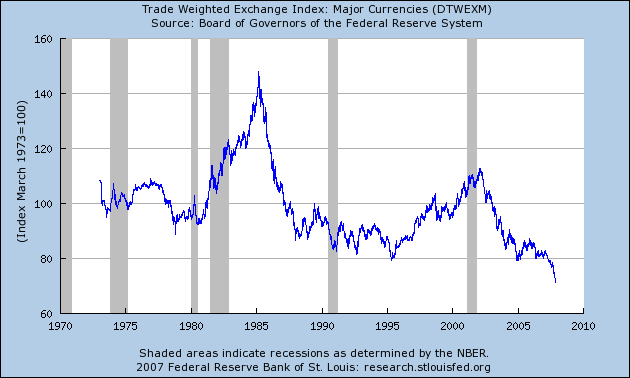 Figure 1: Broad, trade-weighted value of the dollar. Source: Federal Reserve Board via FRED II.

From the Financial Times:

China voices alarm at dollar weakness


By Mure Dickie in Beijing, Krishna Guha in Washington and Peter Garnham and Michael Mackenzie in London


Published: November 19 2007 19:14 | Last updated: November 20 2007 02:19



China on Monday expressed concern at the decline in the dollar, joining a growing chorus of global policymakers alarmed by the weakness in the world's main reserve currency.



Wen Jiabao, the premier, told a business audience in Singapore it was becoming difficult to manage China's $1,430bn foreign exchange reserves, saying their value was under unprecedented pressure. "We have never been experiencing such big pressure," Mr Wen said, according to Reuters. "We are worried about how to preserve the value of our reserves."


China keeps the currency composition of its reserves a state secret, but some analysts believe that more than two-thirds are probably still held in dollars.



The dollar has dropped 16 per cent this year against a basket of major currencies.



Mr Wen's comments came as top international economic officials spoke out in support of a strong dollar in the aftermath of the weekend's Group of 20 summit in South Africa and Opec meeting in Riyadh.




…





Russell Jones, head of currency strategy at RBC, said: "Any respite in the dollar's weakness is likely to be temporary. The dollar isn't a safe haven at the moment, because most of the problems facing the world economy are coming out of the US."



Ashraf Laidi, currency strategist at CMC Markets, said "the power in influencing the fate of the dollar lies increasingly with the oil producers as they struggle with a falling dollar."



Mr Wen's remarks are likely to fuel market speculation that Beijing might move to reduce the proportion of its reserves held in the US currency

And from the other side of the globe (Reuters):

UPDATE 2-UAE talks up FX reform, markets seize on Saudi shift
Mon Nov 19, 2007 2:43pm EST


By Daliah Merzaban and John Irish



DUBAI, Nov 19 (Reuters) – United Arab Emirates policymakers kept up pressure for a review of Gulf Arab dollar pegs on Monday and currencies rallied across the oil-exporting region on a signal that Saudi Arabia may be willing to discuss reform.



The Saudi riyal hit a 21-year high and investors bet on an appreciation of 2.4 percent in a year after a source familiar with Saudi policy told Reuters the world's largest oil exporter could consider its first revaluation since 1986.



Although the source ruled out dropping the peg in favour of a currency basket, he signalled that Riyadh, champion of the Gulf's fixed exchange rates, may respond to a dollar slide that has split a regional economic bloc and the OPEC oil cartel.



"That Saudi Arabia is prepared to admit in public that a revaluation could be one of the acceptable compromises, will increase pressure on Gulf currencies," Marios Maratheftis, head of research at Standard Chartered in Dubai said in a note.



Investors seized on the news. Retail customers scrambled funds into UAE bank deposits. Hedge funds pushed Bahrain's dinar to a 10-month peak and Oman's rial to a month-high as Omani inflation data underlined the Gulf's policy dilemma.


…


Saudi partners in the Organization for the Petroleum Exporting Countries are complaining the tumbling dollar is eroding export revenues. OPEC agreed on Sunday to discuss the dollar weakness after Iran and Venezuela pushed it to price oil in a currency basket.


…
See also Brad Setser's commentary [1], [2], on this meeting.
In the years when interest rates were low, some people argued this would be the perfect time to borrow. If the terms at which one borrowed were fixed, then one might take this argument at face value. But it pays to think about why those low interest rates on dollar assets prevailed — it was argued that the depth and sophistication of U.S. markets made dollar assets particularly desirable.
A corollary of this view was that if the desirability of dollar assets were to change (perhaps because of changes in the perceived default risk of dollar assets (see e.g. [3]), or because of changes in the expected rate of dollar depreciation) then there could be a discrete change in either dollar interest rates and/or dollar exchange rates.
That is the portfolio balance model at work.
The ready critique of this view would focus on the fact that interest rates on U.S. Government debt have not risen. Three month yields have definitely fallen, and even 10 year constant maturity rates have declined. But of course, these are the yields on default-risk-free assets. And as I've noted elsewhere, the spreads between dollar denominated risk-free and risky assets have been widening. Those are the yields we should be looking at in comparison to risky yields in other currencies.
I don't want people to jump to the conclusion that the dollar's role as the dominant reserve currency is over. A lot of these concerns are old news — but the new news is the confluence of events. So while there is a tremendous amount of inertia in a currency's reserve role, what we might be seeing now is the interaction of cyclical factors (low U.S. interest rates and dollar depreciation) and structural factors (the strains on dollar pegs and consequent erosion of demand for dollar assets) which could lead to a substantial drop in the dollar's value.
This would not be a disaster — in fact, it's part of the adjustment process (as Krugman highlights here). But if the interaction leads to an abrupt decline in the demand for dollar assets, then we might very well see even more upward pressure on yields on risky dollar assets, and even more discrete downward moves in the dollar's value. Arguably not an unalloyed good outcome
A final step in the course on which previous policies have set us on (see here [pdf]): to buy a single unit of foreign "goods", we have to give up more units of U.S. goods. In other words, the terms of trade have moved against us substantially, reducing American GDP adjusted for that effect. That, too, is part of the adjustment process.
Technorati Tags: href="http://www.technorati.com/tags/dollar">dollar,
euro,
foreign exchange reserves, portfolio balance models