I think not, and here's why.
The Bureau of Labor Statistics reported today that the seasonally adjusted consumer price index increased by 0.3 percent between November and December, implying an annual inflation rate of 3.4%. If you take the percent change in the seasonally adjusted December 2007 CPI over the seasonally adjusted December 2006 CPI, you get an inflation rate for 2007 of 4.1%. That's the highest December-over-December growth in the seasonally adjusted CPI since 1990, which seems to be the basis for claim by many media outlets that this was the highest inflation rate in 17 years. But that metric is a bit odd, since if you're looking at December-to-December comparisons, I'd prefer to start with the seasonally unadjusted numbers, and for that matter it's not clear why you'd focus just on December-over-December changes as opposed to, say, November-over-November changes. A monthly graph of the year-to-year change in the seasonally unadjusted CPI reveals six observations since 1992 that were bigger than December 2007 (one of which is November 2007). Notwithstanding, there's no question that CPI inflation has been coming in at higher values recently than it had for much of the last two decades.
Year-to-year percent change in seasonally unadjusted CPI for all urban consumers, plotted for each month. Data source:
FRED.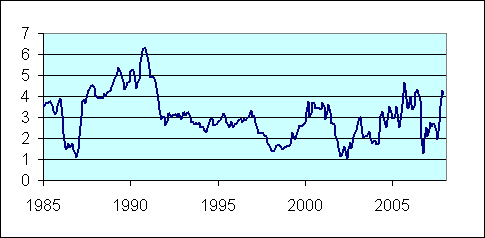 The Fed bases its actions not on what inflation has been, but rather on what it anticipates for the future. Price changes in food and energy have historically exhibited less serial correlation than most other categories. For example, even though energy costs, according to the BLS, rose at a 37% annual rate in 2007:Q4, it's not a particularly good forecast to anticipate they'll also increase an additional 37% during 2008. Forward-looking Fed policy decisions are more apt to respond to the core CPI, which excludes food and energy items. This grew at a 2.9% annual rate in December and 2.4% over the last year.
Alternative measures of inflation (annual rate)

| Measure | Past month | Past 6 months | Past year |
| --- | --- | --- | --- |
| CPI | 3.4 | 3.2 | 4.1 |
| Core CPI | 2.9 | 2.6 | 2.4 |
| PCE | 7.1 | 2.9 | 3.6 |
| Core PCE | 2.8 | 2.4 | 2.2 |
| Trimmed mean PCE | 3.2 | 2.5 | 2.4 |
For that matter, the Fed has been paying more attention to the measure of inflation derived from the implicit price deflator on personal consumption expenditures. Based on the November values for this, we'd calculate inflation at a 3.6% rate over the last year, or 2.2% if we excluded food and energy. An alternative strategy to deleting food and energy is to delete the extreme outliers in both the up and down directions– the Dallas Fed's trimmed mean PCE measure calculates 2.4% inflation for 2007.
In testimony in June 2006, Fed Chair Ben Bernanke referred to the then-prevailing annualized 6-month changes in core CPI of 2.8% and core PCE of 2.3% as

at or above the upper end of the range that many economists, including myself, would consider consistent with price stability and the promotion of maximum long-run growth.
All of which suggests to me that, if the Fed did not have important concerns about what is happening to real economic activity, it would be raising rather than lowering interest rates at the moment.
But of course, the Fed does have some very big concerns about real activity, and the question is to what extent the recent inflation numbers will dissuade them from lowering rates aggressively. Here is what the Fed Chair said in his remarks last week:
Even as the outlook for real activity has weakened, there have been some important developments on the inflation front. Most notably, the same increase in oil prices that may be a negative influence on growth is also lifting overall consumer prices and probably putting some upward pressure on core inflation measures as well. Last year, food prices also increased exceptionally rapidly by recent standards, further boosting overall consumer price inflation. Thus far, inflation expectations appear to have remained reasonably well anchored, and pressures on resource utilization have diminished a bit. However, any tendency of inflation expectations to become unmoored or for the Fed's inflation-fighting credibility to be eroded could greatly complicate the task of sustaining price stability and reduce the central bank's policy flexibility to counter shortfalls in growth in the future. Accordingly, in the months ahead we will be closely monitoring the inflation situation, particularly as regards inflation expectations.
How exactly is the Fed monitoring that anchor for inflation expectations? I suspect that one of the key series they look at is the nominal interest rate on long-term Treasuries. If investors did have significant worries about inflation, you'd expect this to be creeping up. But in fact the 10-year Treasury yield has been making new lows. Hard to imagine how someone who believed inflation was going to continue to romp along at 4% would have any interest in a 10-year security yielding only 3.72%.
Nominal yield on 10-year Treasury securities. Data source:
FRED and Release H.15.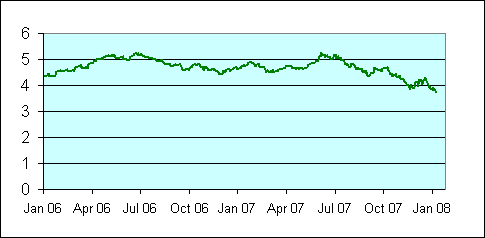 Regardless of how you interpret that indicator, a second thing the Fed is looking at is the spread between inflation-indexed Treasuries and nominal yields, which offers a nice hedge against inflation (as measured by the "headline" CPI, not the core measure) for anybody who wants it. That spread has also been very steady at around 2.3%. Again, if you're expecting inflation over 3%, you're a fool to buy the nominal securities rather than the TIPS. A gap of 2.3% is pretty convincing evidence that buyers of U.S. Treasuries do not anticipate 3% CPI inflation to continue.
Nominal yield on 10-year Treasury securities minus yield on 10-year TIPS. Data source:
FRED and Release H.15.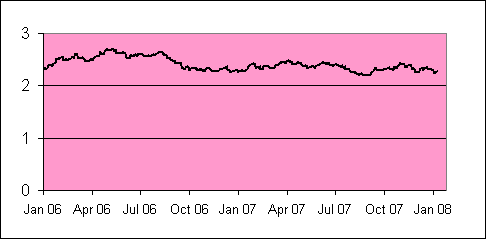 As long as those two series stay in their recent territory, the Fed thinks it has the maneuvering room to be aggressive about addressing the dangers of an economic downturn and financial collapse. And that's why we'll see at least a 50-basis-point cut in the fed funds target at the next meeting, despite the "highest inflation rate of the last 17 years".
---
Technorati Tags: macroeconomics,
Federal Reserve,
interest rates,
inflation,
recession,
fed funds rate