How shall we describe what happened this weekend with Bear Stearns? The first big casualty of the credit crisis, yes. Bailout, no.
Bear Stearns was an investment bank that made trades and created markets for a broad range of securities, including extensive use of derivative contracts such as credit default swaps. In a credit default swap, the seller agrees for a fee to absorb the losses if a certain asset specified by the buyer goes into default. As an upper bound on the importance of such positions, one can look at the gross notional value of all derivative contracts. For example, if you've sold a put option under which somebody could force you to buy 1000 shares of IBM at $100 a share if the price falls that low, your notional exposure would be $100,000. According to Bear Stearns 2007 10-K, the notional value of all Bear's derivative contracts as of November 2007 came to $13.40 trillion. That's trillion, with a "t". As in, about the same number as total 2007 U.S. GDP. Now, Bear's actual net liabilities could under no conceivable scenario actually achieve that number– for example, if that put is exercised, and you sell at $95 the shares you're forced to buy at $100, you're actually only out $5,000. But $13.4 trillion is a staggeringly big number, whatever it means.
Bear Stearns stock price. Source: Yahoo.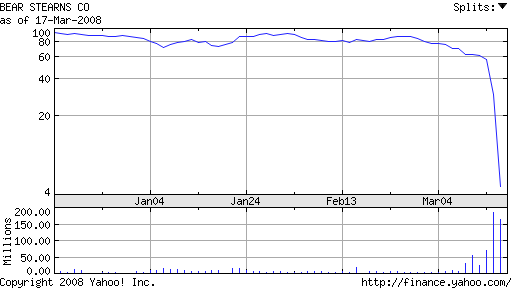 A second number that I find fascinating is Bear's stock price, which had fallen from $100 a share at the start of this year to $30 on Friday. Under the deal brokered by the Federal Reserve over the weekend, JPMorgan offered to take over Bear for $2 a share, or less than $300 million for the entire company. By comparison, Bears' NYC building alone is thought to be worth $1.5 billion. Hence when I read statements like this one from Elizabeth Spiers it drives me nuts:
Now Bear is being bailed out by the Fed via JPMorgan Chase, which is buying the troubled firm for $2 a share…. The Fed itself is dodging criticism from people who worry that its willingness to play lender of last resort to the embattled brokerage will cause similar institutions to expect that their worst mistakes can be fixed with a Fed bailout.
$2 a share is a "bailout" that "fixes" management's worst mistakes? I rather think instead that it pretty much wipes out the stake held by owners of the company, and is the very least that could possibly be offered as inducement to try to get Bear to agree to the steps necessary to swiftly resolve the huge problems that its illiquidity creates.
No, $2 a share is no bailout, but instead represents a fire sale price. Indeed, as Felix Salmon observes $2 seems to be substantially below that minimum necessary inducement. BSC shares are trading at the moment closer to $6, suggesting owners have reason to expect something better can be obtained than the initial proposal.
True, the Fed did offer a $30 billion non-recourse loan to JPMorgan to sweeten the deal. But what twist of logic would lead us to describe that as a "bailout" of Bear as opposed to an inducement to JPMorgan to help clean up the mess?
Granted, this and the Fed's other recent unconventional measures are exposing the Fed– and ultimately the U.S. taxpayer– to additional risk. But knzn offers a good counterpoint– perhaps the greatest single risk to the U.S. Treasury is the risk of declining tax revenues from a major economic downturn. I do not share knzn's particular fears of deflation in the U.S.– I am absolutely confident that Bernanke can and will prevent deflation. But lost revenues from an economic downturn are already a reality, and it's only a question of how much more severe that's going to become. Minimizing net loss to the Treasury, receipts and expenditures included, is perhaps one reasonable metric for deciding how big a risk it makes sense for the Fed to assume in this situation.
But I think the really troubling thing about this development is the rapidity with which Bear's capital seems to have disappeared in smoke. It looks to me like the correct language to describe what happened is that of a classic bank run– Bear's short term creditors said "no mas", and it was impossible to liquidate long-term assets fast enough to cover the gap.
Some are saying that this was ultimately an error by the Fed, in failing to provide interim liquidity to Bear sufficiently quickly. But that we have been marching toward a day like last Friday should have been very clear to everyone for at least a year now. Stability of the system is supposed to be achieved by ensuring that any institution that is borrowing short and lending long holds a sufficient cushion of net equity so as to be able to absorb the losses from short-term liquidation. Whatever the true meaning of the $13.4 trillion notional exposure, that number was "only" $8.74 trillion in 2006. It appears that Bear was unable or unwilling to work itself into a position of lower leverage and higher equity even with one year's advance warning. For which, I say, the owners and managers should and will suffer.
Bear is not going to be last, but it is the model I think for what we'd want to see– owners of the companies absorb as much of the loss as possible, while the Fed does its best to minimize collateral damage.
But if you're still walking the streets of New York, watch out for falling debris.
---
Technorati Tags: macroeconomics,
economics,
Federal Reserve,
Bear Stearns,
credit crunch