As the dollar continues to plumb new depths [0], and the economic slowdown continues, I want to discuss two questions about the trade balance that occur to me.
Question 1: What is driving the improvement in net exports ex-oil?
First, recall the while the preliminary announcement of GDP did not change the overall GDP growth rate recorded in 2007Q4, it did change the composition of output growth. In particular, the net exports contribution expanded; taking out net exports (in a mechanistic fashion, admittedly), GDP growth would have been essentially zero.
More interesting to me is the revision in the estimates going from the advance to preliminary release. Exports' contribution was revised slightly up, while imports positive contribution was revised substantially up, from a slight negative to a positive.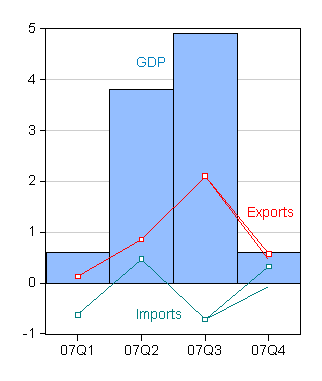 Figure 1:
Real GDP growth q/q SAAR (blue bars), export contribution (red) according to January 30 release (line) and February 28 (line+box), import contribution (teal), according to January 30 release (line) and February 28 (line+box). Source: BEA, NIPA releases of 30 January and 28 February.
Second, while we see undeniable improvement in net exports/GDP and the ex-oil net exports/GDP ratios, one question is how much of this is due to expenditure switching (Americans and foreigners spending falling more on American goods as relative prices change) and how much is due to expenditure reduction (decrease in imports as income falls). Figure 2 reprises the now familiar graph of net exports (including and excluding oil imports) against the lagged dollar exchange rate (broad).
Figure 2:
Log real dollar exchange rate (blue line) (broad, lagged two years), net exports to GDP ratio (red) and ex-oil net exports to GDP ratio (green). NBER recession dates shaded gray. Source: BEA, NIPA release of 28 February, Federal Reserve Board, NBER, and author's calculations.
The estimates provided in this post suggest that only a portion of the tailing off of non-oil imports is due to expenditure switching.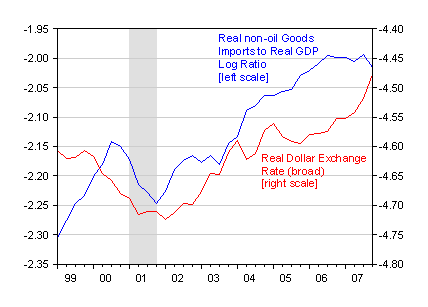 Figure 3:
Log real goods imports ex oil (blue line) and log real trade weighted dollar exchange rate (red line) (broad). NBER recession dates shaded gray. Source: BEA, NIPA release of 28 February, Federal Reserve Board, and NBER.
(Notice, I had to normalize by something, and I normalized by GDP — not quite a legitimate thing to do given that these are chain quantities, but since the period covered is pretty short, I don't think the damage done is too big.) The long run price elasticity of non-oil goods imports is about 0.3, according to my estimates (where the price is the dollar exchange rate) [1], [2] [pdf]. From 2003 to 2005 the dollar dropped about 13% in value against a broad basket of currencies. This means that about 4% reduction in imports (or about 60 billion Ch.00$) is attributable to the dollar decline, using a two year lag as an ad hoc approximation to the long run.
Is this big? That's a bit under 40% of the deviation (of about 140 billion Ch.2000$) from linear trend (2002-2005) in non-oil goods imports recorded in 2007Q4. This suggests the remainder of the import decline is due to slower income growth.
On the export side, once again I've normalized by export-weighted rest-of-world GDP (my RoW series only runs up to 06Q4, which explains why the blue series ends there). Assuming that the exports to RoW GDP series also rose by about the same rate as it did in 2005 and 2006, then the 12% increase seems about consistent with the 13% dollar depreciation 2003-05, and a price elasticity of around unity.
Figure 4:
Log real exports of goods and services (blue line) and log real trade weighted dollar exchange rate (red line) (broad). NBER recession dates shaded gray. Source: BEA, NIPA release of 28 February, Federal Reserve Board, and NBER.
So for me, it seems that the import side of the net exports improvement is coming largely, although not entirely, from an income-driven slowdown in demand for foreign goods, what I called "import compression".
This is the past dollar depreciation's impact. What about the ongoing dollar decline — how is that feeding into adjustment? That's the segue to the next question.
Question 2: Is there a J-Curve?
I was prompted to investigate this question by this comment posted by reader E.Poole, in response to this post:

Even if the US avoids a recession and sits in that politically toxic 0-2% real growth band, I would still expect net exports to increase because the US dollar continued to decline well into late 2007. The stylized facts supporting past J-curves suggest that both export growth opportunities and import substitution require many months, if not years to be fully realized.
I don't disagree with the notion that there are lags in adjustment (indeed, my lagging of the real exchange rate by two years in Figure 1 presupposes the existence of such lags). And indeed the "J-curve" is well ensconced in international finance/open economy macro textbooks. But I want to observe that the empirical evidence on the J-curve — the proposition that the trade balance worsens immediately after an exchange rate depreciation as the valuation effect overwhelms the quantity effects, especially in the short term — is mixed.
Source:
New York Fed
In examining the j-curve in the data, it is useful to remember where the idea comes from. In the simple exposition of the Marshall-Lerner conditions (see here [pdf]), starting from initial trade balance, a dollar depreciation induces a reduction in import quantities and an increase in export quantities, but since import prices rise one-for-one with the exchange rate devaluation (full pass through), the valuation effect will tend to overwhelm the quantity (or "volume") effects unless the price elasticities are sufficiently large. Since elasticities are presumably smaller in the short run than the long run, then it would seem to make sense that initially the Marshall-Lerner conditions do not hold. Furthermore, since countries usually devalue starting from a point of initial trade deficit, it is even more likely that the valuation effect overwhelms the volume effects.
There are two complications: (1) exchange rate pass through is typically not unity, and indeed even in the long run might be as low as 0.20 [3], [4], [5]; (2) typically lots of other things are occuring at the same time as an exchange rate devaluation or depreciation.
Returning to the first point, if pass through is less, then the valuation effect is less pronounced, thereby putting less upward pressure on the value of imports, denominated in local real terms.
Regarding the second point, income — among other things — might be declining over time. Indeed, often income and the exchange rate might be moving in the same direction (witness the US today). Hence, it is not enough to look at how the trade balance responds after a dollar depreciation; one would like to see how exchange rate changes, controlling for other effects, influences the trade balance. Here, surprisingly, the econometric evidence is not as strong as one would think.
From "The J-Curve: a literature review," by Mohsen Bahmani-Oskooee and Artatrana Ratha, in Applied Economics, 2004, 36, 1377-1398:
No matter what type of model and data (aggregate versus
bilateral) used by researchers, the general consensus is
that the short-run response of the trade balance to currency
depreciation does not follow any specific pattern. The
results are country specific. However, as far as the longrun
effects of depreciation is concerned, models that rely
on bilateral trade data yield more outcomes supporting the
positive long-run relation between exchange rate and trade
balance as compared to aggregate data.
For me, this summary is representative of the results obtained by Andrew Rose and Janet Yellen (Journal of Monetary Economics, 1989). Their analysis is based upon this equation:
TB = a0 + a1yUS + a2y* + a3q
Where TB is the bilateral US-foreign trade balance, y is log GDP and q is the log real exchange rate. In this context, the presence of a J-curve effect would be manifested in initially negative coefficients on q, turning to positive ones at longer lags. Bahmani-Ooskooee and Ratha summarize Rose and Yellen thus:
…They also
run Equation (above) in first differences and experiment with
various lag structures of the explanatory variables
involved. They correct for potential simultaneity bias
and measurement errors by using instrumental variables
(IV) estimation. With Germany and Italy, lags of the real
exchange rate are significant and depreciation improves
the US trade balance. However, they find no indications
of the posited J-Curve, and conclude: 'there is no signifi-
cant exchange rate effect on the trade balance at all, for any
lag length'. Intrigued by such a negative finding, they check
for potential flaws resulting from: (a) choice of IV estimator
rather than OLS, (b) choice of unconstrained exchange
rate lags rather than a more complex distributed lag technique,
(c) focus on net exports of goods rather than exports
and imports separately, (d) choice of sample period, (e)
choice of single equation and a purely bilateral model of
trade flows, (f) imposition of homogeneity of degree zero
in P, P* and E, (g) dynamic specification issues, (h) biases
due to omitted variables, and (i) the first differencing transformation. Surprisingly, their key findings remain
unchanged.
I've done a quick (i.e., non-exhaustive) check of
the US data for the 1973-06 period, in a cointegration framework. I also fail to find a distinct, robust, pattern of short run elasticities that conforms to the J-curve effect.
What are the policy implications? I don't think we need to worry about an initially negative impact from dollar depreciation feeding into aggregate demand, due to the J-curve. On the other hand, this also means that we should not expect enormous gains relative to the effects we're seeing now, in terms of trade balance adjustments, that one might expect as the economy "moves up the J-curve".
Technorati Tags: href="http://www.technorati.com/tags/trade+deficit">trade deficit,
imports,
exports, pass through,
dollar,
j-curve
.