From Macroeconomic Advisers, May 14:
Monthly GDP Index: March 2008




Monthly GDP rose 0.3% in March. This followed a 1.0% decline in February that was revised up from a 1.2% decline in last month's report. The moderate increase in monthly GDP in March can largely be accounted for by positive contributions from personal consumption expenditures and domestic spending on capital goods. A large positive contribution from net exports was essentially offset by a large negative contribution from inventory investment. The level of monthly GDP in March was 0.5% below the first-quarter average at an annual rate. Our latest tracking forecast of 2.6% growth of GDP in Q2 assumes average monthly increases of 0.4% per month from April to June.
Here's the time series plot: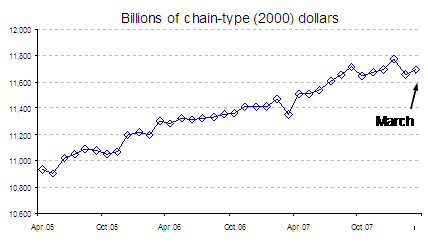 Figure 1:
Monthly GDP in Ch.2000$, SAAR. Source:
Macroeconomic Advisers
, May 14, 2008.
e-forecasting's estimates provide a slightly different time profile for GDP. Although it's not necessarily a more encouraging one, as it shows a drop in April.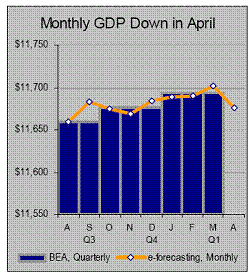 Figure 2:
Monthly GDP in Ch.2000$, SAAR. Source:
e-forecasting.com
, May 15, 2008.
From e-forecasting.com:
April Report-
April GDP Dives Down





Volume V, Issue 5B, May 15th, 2008





According to e-forecasting's Preliminary Estimate of U.S. Monthly GDP, the nation's output of goods and services declined in April.



Following an increase of 1.2 percent in March, the real-time monthly GDP, expressed at seasonally adjusted annual rates in chained 2000 prices, fell 2.6 percent in April to $11,675.4 billion.



Looking at the annual growth rate of monthly GDP's three-month moving average from three months ago, the economy's output in April increased by 0.3 percent. This growth rate is the monthly equivalent
to the publicized GDP quarterly growth rate from the preceding quarter. In reality, the growth rate of the three months ending in the last month of the quarter is identical to the quarterly growth rate.



The six-month smoothed annual growth rate of the U.S monthly real GDP, which historically has signaled the recession phases of the business cycle, recorded a positive reading of 0.6 percent in April,
after posting a positive growth rate of 1.4 percent in March. This compares to a long-term annual average growth rate of 3.3 percent during 1959-2006.



On a year-over-year basis, real monthly GDP rose by 1.8 percent in April 2008 from the same month of last year. This follows an increase of 2.2 percent in March.