The March trade release was taken as good news. Here's some reasons to wonder a bit more about how good the news was.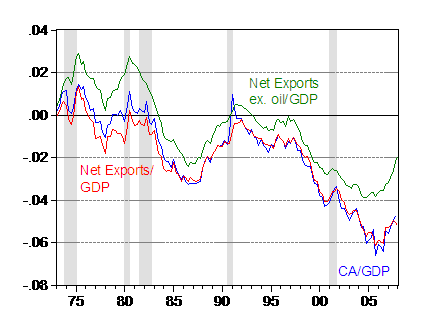 Figure 1: Current account balance (blue), net exports (red), and net exports ex-oil (green), as a ratio of GDP. NBER defined recessions shaded gray. Source: BEA GDP release of 30 April 2008, and NBER.

Commenting on Figure 1 which was included in this post, reader GK remarks:
I actually consider the first chart to be positive. Look at much the trade deficit ex-oil has improved.



Almost all of our CA deficit is due to two things – oil and China. Of this:



1) Once China's currency creeps up to fair-market rates, and their domestic economy becomes large enough, or deficit with them will shrink.



2) It appears that Oil deficit dollars have peaked. Rising costs per barrel are being met with a corresponding fall in consumption. So the dollar imports of oil have hit a ceiling.



It seems that in the next decade, we will eliminate the ex-oil deficit, and the oil deficit may be a bit smaller than it is today. So the total will once again be under 2% of GDP.

On (1), I wonder if Chinese revaluation unaccompanied by rest-of-developing-Asia currency appreciation will effect the desired adjustment in the US trade balance. To a first approximation, the overall US current account deficit is driven by national savings minus investment, and I think these variables will only be affected by exchange rates if the exchange rate changes are broadly based. See this post for additional discussion, as well as my 2005 Council on Foreign Relations report [pdf].
Definitely, the trade balance is important. Consider the effect of net exports on overall GDP growth.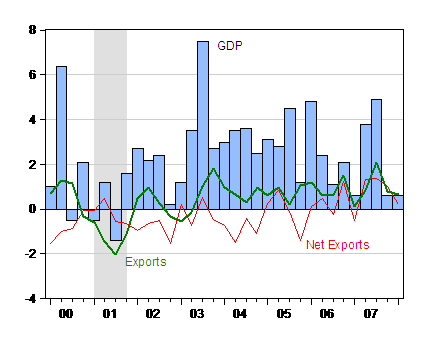 Figure 2:
GDP q/q growth, SAAR (blue bars), and contributions from exports (red line) and net exports (green line). NBER-defined recessions shaded gray. Source: BEA
GDP release
of 30 April 2008, and
NBER
.
In 2007Q3 in particular, GDP growth was strongly driven by net export growth. However, starting in 2007Q4, net export growth tailed off considerably. Indeed, without the support of net exports, 2007Q4 GDP growth would have been negative, in a mechanical, accounting sense.
The fact that in 2008Q4 exports accounted for more than 100% of GDP growth implies that real import growth is such that it is subtracting from total growth.
This brings me to GK's point (2): "…so the dollar value of imports of oil have hit a ceiling."
Figure 3 depicts nominal (blue) and real (red) monthly imports of petroleum and petroleum products, in millions of dollars.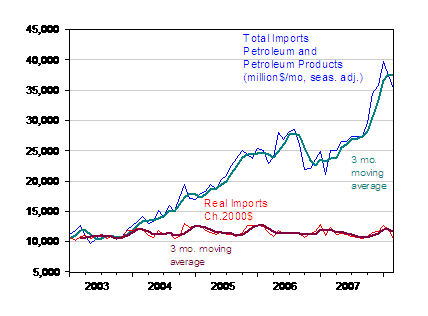 Figure 3:
Nominal petroleum and petroleum product imports (blue), 3 month moving average (teal), real imports in Ch.2000$ (red), and 3 month moving average (purple), all in millions per month, seasonally adjusted. Source: BEA/Census,
March trade release
, 9 May 2008, and author's calculations.
As is clear, both nominal and real series have peaked and are declining. However, the 3 month moving averages are essentially flat. In terms of real magnitudes, the cyclical factors should be resulting in a downward trend. However, working in the opposite direction is the fact that US domestic production accounts for an ever small share of US consumption.
One point that I want to make at this juncture is that, as recounted in this post citing Bertaut et al. (2008), using standard estimates of trade elasticities, and plausible trends for home and foreign growth, and the current value of the dollar, the US current account balance will resume its downward march in 2009 (see this post for a discussion). This means that given the current constellation of policies and the current value of the dollar, we should not take too much solace from the improvement in the trade balance.
As an aside, the March trade balance coming in above expectations means that GDP in 2008Q1 will tend to be revised upward. That's because the advance release is a conditional estimate of GDP, and incorporated a guess about the March deficit [1]:
Lehman Brothers Holdings Inc. economists said the smaller- than-forecast trade gap will probably lift the estimate for first-quarter growth by as much as 1 percentage point.


"The data suggest a boost to the first quarter, but do little to alter our overall view of U.S. growth," Drew Matus, a Lehman economist in New York, wrote in a note to clients.
On the other hand, this Forbes article presents some slightly less pronounced effects:
Stephen Gallagher at Societe Generale said "the narrower deficit for Q1 that was assumed by the Bureau of Economic Analysis in their advance Q1 GDP gives room for upside revisions. Indeed, our calculations suggest trade revisions will add 0.2% to the growth rate."



Ian Shepherdson of High Frequency Economics thinks the impact will be even greater. 'The trade contribution to first quarter growth will be revised up by about 0.5% points, lifting the GDP growth number to 1.1% from 0.6%, other things equal,' he said.

But, decreasing imports reflects in part declining economic activity, so this release could be construed as news that should revise downward expectations regarding 2008Q2 growth.
The last observation I'd like to make echoes that made by Brad Setser: namely that upward pressure on the deficit will continue because of rising oil prices (see also Calculated Risk.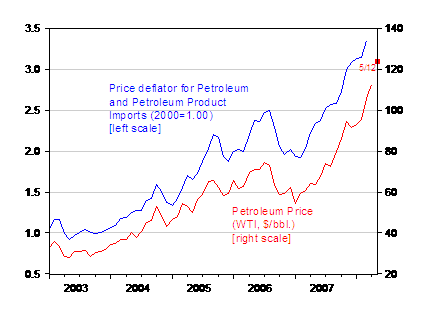 Figure 4:
Price deflator for petroleum and petroleum products imports, 2000=1.0 (blue), and price per barrel of West Texas Intermediate. May 12 observation (red square). Sources: BEA/Census,
March trade release
, 9 May 2008, St. Louis Fed FREDII, Bloomberg accessed May 12, and author's calculations.
Figure 4 makes clear that the petroleum and petroleum products deflator (remember, we also import gasoline and other distillates, not just barrels of oil) tracks the price of oil (here I use WTI as a proxy for world oil prices). The key point is that April oil prices were 6% higher (log terms) than March prices. This means that unless real oil imports are 6% lower, the overall oil deficit will increase. (This could happen — the average decline over the last three months has been a bit over 3% in log terms.) Looking even further forward, the May 12th price of nearly $124 per barrel suggests little respite from these high prices in the near future.
Parting shot. Goods exports look like they're slowing — actually they're declining.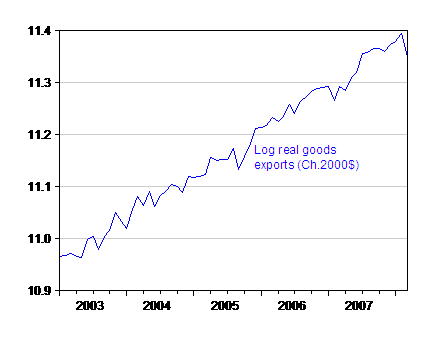 Figure 5:
Real exports of goods (blue), in millions per month, seasonally adjusted. Source: BEA/Census,
March trade release
, 9 May 2008.
So from my perspective, we are not out of the woods yet.
Technorati Tags: current account,
net exports,
sustainability, oil imports,
oil pries.