…oil was the objective. Maybe.
From ABC:
Five years after the US-led coalition stormed into Iraq there is set to be another western invasion.



This time it is the world's biggest oil companies leading the charge, 36 years after Saddam Hussein kicked them out.



The oil giants are seeking access to Iraq's rich crude reserves, Australian companies BHP Billiton and Woodside are among them.



The Iraqi government wants to make up for the lost opportunities under Hussein's rule and has the ambitious goal of doubling Iraqi oil production to more than 4 million barrels a day within five years.



Peter Zeihan, an energy analyst at geopolitical intelligence group Stratfor, says there is plenty of incentive for the big oil companies.



"They have the largest, easiest reservoirs to tap, they're very close to existing export points, there's infrastructure in place for over double the amount of oil that currently is being produced in Iraq," Mr Zeihan said.



"When Iraq does ultimately open up in a big way and allow greenfield investments, every single oil major in the world wants to be part of that play. And if that means signing deals that you're not exactly thrilled with today, so be it."



The Iraqi government insists the companies that win contracts must take on a local partner who in turn must have a minimum 25 per cent stake in the deal.



In an attempt to fast track oil production the government will award six contracts on a no-bid basis, to a handful of mainly US companies.



The move has been criticised by some US law-makers but State Department spokesman Tom Casey insists Iraqi arms were not twisted.



"The United States was not involved in any decisions to award contracts, to make determinations of what kinds of contracts would be offered," Mr Casey said.



Still the mad rush for Iraqi oil has reignited debate over why the US invaded Iraq in the first place.



Rick Barton of the Washington based Centre for Strategic and International Studies says gaining access to the Iraqi oil fields was always a key strategic motivation.



"Of course oil is important. It matters to the world, it is one of the true assets of this region," Mr Barton said.



"And to be more matter of fact about it and then to make it clear to people that really the more oil that is produced and exported, it's better for the world markets and it's better for the Iraqis."



"Instead of people being coy about it, my feeling is that total transparency makes it – takes away the argument."

Actually, I'm not quite as optimistic as this article. And the reason I'm not is that it's not clear that these oil contracts will be implemented. And that's because, as the GAO made clear in its recent exhaustive analysis "Securing, Stabilizing and Rebuilding Iraq" [pdf] of how many — or more accurately, few — of the benchmarks associated with "the surge" have been achieved. Most importantly, the central elements of the hydrocarbons laws have not been achieved. In fact, Figure 10 from the GAO report puts this point in pretty stark relief.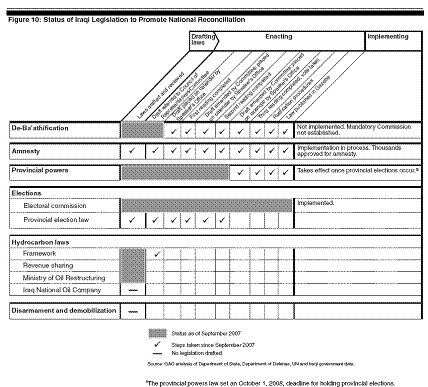 Figure 10
from
GAO, SECURING, STABILIZING, AND REBUILDING IRAQ: Progress Report: Some Gains Made, Updated Strategy Needed, June 2008
.

The report's motivation recalls for us the original rationale for "The New Way Forward", aka "the surge":

Since 2001, Congress has appropriated about $640 billion for the global war on terrorism, the majority of this for operations in Iraq. In January 2007, the President announced The New Way Forward to stem violence in Iraq and enable the Iraqi government to foster national reconciliation. This new strategy established goals and objectives to achieve over 12 to 18 months, or by July 2008.


GAO discusses progress in meeting key goals in The New Way Forward: (1) improve security conditions; (2) develop capable Iraqi security forces; and help the Iraqi government (3) enact key legislation, (4) spend capital budgets, and (5) provide essential services. GAO also discusses U.S. strategies for Iraq. [emphasis added — MDC]

Summing up, GAO concludes:

The New Way Forward responded to failures in prior strategies that prematurely transferred security responsibilities to Iraqi forces or belatedly responded to growing sectarian violence. Overall violence, as measured by enemy-initiated attacks, fell about 70 percent in Iraq, from about 180 attacks per day in June 2007 to about 50 attacks per day in February 2008. Security gains have largely resulted from (1) the increase in U.S. combat forces, (2) the creation of nongovernmental security forces such as Sons of Iraq, and (3) the Mahdi Army's declaration of a cease fire. Average daily attacks were at higher levels in March and April before declining in May 2008. The security environment remains volatile and dangerous. The number of trained Iraqi forces has increased from 323,000 in January 2007 to 478,000 in May 2008; many units are leading counterinsurgency operations. However, the Department of Defense reported in March 2008 that the number of Iraqi units capable of performing operations without U.S. assistance has remained at about 10 percent. Several factors have complicated the development of capable security forces, including the lack of a single unified force, sectarian and militia influences, and continued dependence on U.S. and coalition forces.



The Iraqi government has enacted key legislation to return some Ba'athists to government, give amnesty to detained Iraqis, and define provincial powers. However, it has not yet enacted other important legislation for sharing oil resources or holding provincial elections. Efforts to complete the constitutional review have also stalled. A goal of The New Way Forward was to facilitate the Iraqis' efforts to enact all key legislation by the end of 2007.



Between 2005 and 2007, Iraq spent only 24 percent of the $27 billion it budgeted for its own reconstruction efforts. More specifically, Iraq's central ministries, responsible for security and essential services, spent only 11 percent of their capital investment budgets in 2007 — down from similarly low rates of 14 and 13 percent in the 2 prior years. Violence and sectarian strife, shortage of skilled labor, and weak procurement and budgeting systems have hampered Iraq's efforts to spend its capital budgets.



Although oil production has improved for short periods, the May 2008 production level of about 2.5 million barrels per day (mbpd) was below the U.S. goal of 3 mbpd. The daily supply of electricity met only about half of demand in early May 2008. Conversely, State reports that U.S. goals for Iraq's water sector are close to being reached. The unstable security environment, corruption, and lack of technical capacity have contributed to the shortfalls.



The Departments disagreed with our recommendation, stating that The New Way Forward strategy remains valid but the strategy shall be reviewed and refined as necessary. We reaffirm the need for an updated strategy given the important changes that have occurred in Iraq since January 2007. An updated strategy should build on recent gains, address unmet goals and objectives and articulate the U.S. strategy beyond July 2008. [emphasis added — MDC]

According to Congressional Research Service, we are now spending in the area of $12.5 billion per month.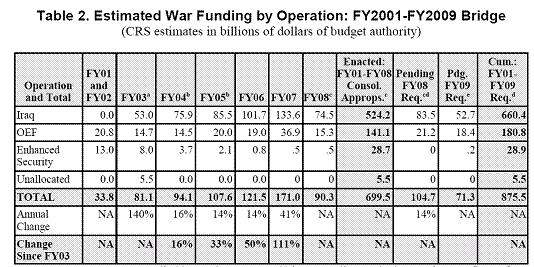 Table 2
from
CRS, The Cost of Iraq, Afghanistan, and Other Global War on Terror Operations Since 9/11, Updated May 30, 2008
.
Or, about 1% of U.S. GDP. [late addition — on an annualized basis]. Of course, this does not include costs for medical care out of theater, and VA costs, etc. These are only direct fiscal costs, as best as they can be counted. Furthermore, the expenditure per troop is rising (at least through FY06). From the CRS report:

GAO, CBO and CRS have all testified to Congress about the limited
transparency in DOD's war cost estimating and reporting. While DOD has provided considerably more justification material for its war cost requests beginning with the FY2007 Supplemental, many questions remain difficult to answer — such as the effect of changes in troop levels on costs — and there continue to be unexplained discrepancies in DOD's war cost reports.