In "Redefining Recession", The Economist discusses some of the difficulties in interpreting the "R" word. Since the article juxtaposed output gaps against the conventional NBER definition, I thought this would be a good time to update my post on output gaps, using the latest GDP data, CBO estimates, augmented with the latest WSJ survey of forecasters.
Figure 1 depicts in blue the output gap as defined by the August 28 GDP release and the September 9 CBO estimate of potential GDP. I've added the deviation from a quadratic time trend in red.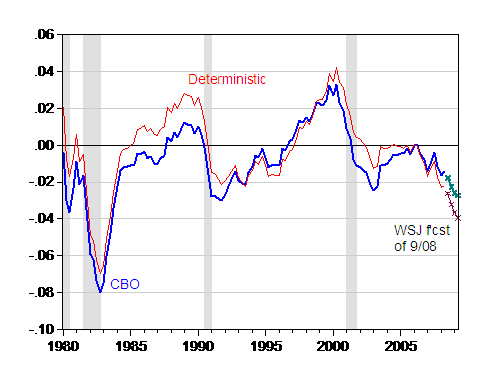 Figure 1:
Actual output gap defined as deviation from CBO potential GDP (blue) and from quadratic in time (red); corresponding measures as implied by the September 2008
WSJ
survey of forecasters, in teal and maroon, respectively. NBER defined recessions shaded gray. Source:
BEA GDP
release of 28 August;
CBO Budget and Economic Outlook: An Update (September 2008)
,
Table 2-2
;
WSJ survey of forecasters (September 2008)
; and
NBER
.
What this graph illustrates is that the rapid 3.3% growth recorded in 2008Q2 barely made a dent in the output gap. Using the WSJ mean forecasts from the September survey leads to the conclusion that the output gap will be nearly 3% (log terms) by 2009Q2, using the CBO measure of the output gap potential output. It will be 4%, measured as a deviation from a quadratic in deterministic trend.
Technorati Tags: potential GDP,
recession, output gap,
full employment output, trend, and
forecasters.