There's a lot of commentary — more comprehensive and up to date than I can provide — on the crisis and the attempts to resolve the logjam in the financial markets.[0], [1] But I stilll have a couple of thoughts about the causes, and the implications, of the process that has resulted in so much turmoil this week.
First, what is the source of the crisis? Is it as is asserted here in this statement from John McCain today?
….


There are certainly plenty of places to point fingers, and it may be hard to pinpoint the original event that set it all in motion. But let me give you an educated guess. The financial crisis we're living through today started with the corruption and manipulation of our home mortgage system. At the center of the problem were the lobbyists, politicians, and bureaucrats who succeeded in persuading Congress and the administration to ignore the festering problems at Fannie Mae and Freddie Mac.



These quasi-public corporations lead our housing system down a path where quick profit was placed before sound finance. They institutionalized a system that rewarded forcing mortgages on people who couldn't afford them, while turning around and selling those bad mortgages to the banks that are now going bankrupt. Using money and influence, they prevented reforms that would have curbed their power and limited their ability to damage our economy. And now, as ever, the American taxpayers are left to pay the price for Washington's failure.


…
I certainly concur with the first sentence. But I do wonder about the assertion that the problem started with and is fundamentally driven by Fannie Mae and Freddie Mac. After all, neither of these two institutions were at the heart of the massive surge in subprime mortgages that are the most toxic component of these asset backed securities. Smarter people than me (Justin Fox, Tanta at CR h/t Mark Thoma, not to mention Jim Hamilton) have been similarly dubious.

Moreover, the originating entities for these subprime mortgages were not Fannie Mae and Freddie Mac, by large, but rather the banks that the Federal government refused to let state agencies regulate. Or the ones the Treasury's OTS itself failed to regulate. To refresh memories, consider this article from December 18, 2007 NYT:
WASHINGTON– Until the boom in subprime mortgages turned into a national nightmare this summer, the few people who tried to warn federal banking officials might as well have been talking to themselves.


Edward M. Gramlich, a Federal Reserve governor who died in September, warned nearly seven years ago that a fast-growing new breed of lenders was luring many people into risky mortgages they could not afford.


But when Mr. Gramlich privately urged Fed examiners to investigate mortgage lenders affiliated with national banks, he was rebuffed by Alan Greenspan, the Fed chairman.


In 2001, a senior Treasury official, Sheila C. Bair, tried to persuade subprime lenders to adopt a code of "best practices" and to let outside monitors verify their compliance. None of the lenders would agree to the monitors, and many rejected the code itself. Even those who did adopt those practices, Ms. Bair recalled recently, soon let them slip.


And leaders of a housing advocacy group in California, meeting with Mr. Greenspan in 2004, warned that deception was increasing and unscrupulous practices were spreading.


John C. Gamboa and Robert L. Gnaizda of the Greenlining Institute implored Mr. Greenspan to use his bully pulpit and press for a voluntary code of conduct.


"He never gave us a good reason, but he didn't want to do it," Mr. Gnaizda said last week. "He just wasn't interested."


Today, as the mortgage crisis of 2007 worsens and threatens to tip the economy into a recession, many are asking: where was Washington?


An examination of regulatory decisions shows that the Federal Reserve and other agencies waited until it was too late before trying to tame the industry's excesses. Both the Fed and the Bush administration placed a higher priority on promoting "financial innovation" and what President Bush has called the "ownership society."


…

On Tuesday, under a new chairman, the Federal Reserve will try to make up for lost ground by proposing new restrictions on subprime mortgages, invoking its authority under the 13-year-old Home Ownership Equity and Protection Act. Fed officials are expected to demand that lenders document a person's income and ability to repay the loan, and they may well restrict practices that make it hard for borrowers to see hidden fees or refinance with cheaper mortgages.


It is an action that people like Mr. Gramlich and Ms. Bair advocated for years with little success. But it will have little impact on many existing subprime lenders, because most have either gone out of business or stopped making subprime loans months ago.


…


The Fed was hardly alone in not pressing to clean up the mortgage industry. When states like Georgia and North Carolina started to pass tougher laws against abusive lending practices, the Office of the Comptroller of the Currency successfully prohibited them from investigating local subsidiaries of nationally chartered banks.


Virtually every federal bank regulator was loathe to impose speed limits on a booming industry. But the regulators were also fragmented among an alphabet soup of agencies with splintered and confusing jurisdictions. Perhaps the biggest complication was that many mortgage lenders did not fall under any agency's authority at all.


…
And for some more concrete examples of how deregulatory zeal had an effect, consider this account from the WSJ (March 22, 2007):
Regulators appointed by President Bush often have been more sympathetic to industry concerns about red tape than their Clinton administration predecessors. When James Gilleran, a former California banker and bank supervisor, took over the OTS in December 2001, he became known for his deregulatory zeal. At one press event in 2003, several bank regulators held gardening shears to represent their commitment to cut red tape for the industry. Mr. Gilleran brought a chain saw.



He also early on announced plans to slash expenses to resolve the agency's deficit; 20% of its work force eventually left. When he left in 2005, Mr. Gilleran declared that the OTS had "exercised increased diligence in its review of abusive consumer practices" while reducing thrifts' regulatory burden. But his successor, Mr. Reich, a former community banker, has reversed many of Mr. Gilleran's cuts. Citing "understaffing," he hired 80 examiners last year and plans to add 40 more this year. A spokeswoman for Mr. Gilleran, now chief executive of the Federal Home Loan Bank of Seattle, said he wasn't available to comment.

So, from my perspective, locating the source of the current crisis in corruption/influence peddling surrounding Fannie and Freddie exhibits a misreading of recent history. (More important might have been lax monetary policy and the saving glut, and exemptions from capital requirements for certain investment banks… [see Ritholtz])
Second, how hard will the rescue be given the reckless decisions of the past? It seems that whatever entity is established to purchase these bad assets will require some fiscal outlay. Estimates are all over the place, given that there is so much uncertainty over how much the assets will be bought for and eventually sold; here is one account:
U.S. Debt May Grow $1 Trillion on Rescue, Barclays' Pond Says



By Sandra Hernandez



Sept. 19 (Bloomberg) — The U.S. may have to borrow an extra $700 billion to $1 trillion to fund the biggest rescue of the financial system since the Great Depression, according to Barclays Capital Inc.'s Michael Pond.



Federal takeovers of Fannie Mae, Freddie Mac, and American International Group Inc.; the central bank's expansion of lending to financial firms; and a slowing economy will add $455 billion to the Treasury's borrowing needs, the New York-based interest-rate strategist estimated. Pond said Treasury Secretary Henry Paulson's plan to rid banks of "hundreds of billions" of troubled assets would bring the amount to $700 billion assuming the plan costs $200 billion.



"We could easily add up to an additional trillion to the outstanding Treasury debt just from the initiatives announced over the past couple of weeks," said Pond, ranked the best Treasury Inflation-Protected Securities analyst in 2008 by Institutional Investor magazine.



The government's liabilities swelled in past weeks as policy makers sought to arrest a growing financial crisis by taking over financial institutions threatened by a shortage of capital.



The Treasury on Sept. 7 took over mortgage-finance companies Fannie Mae and Freddie Mac and said it would buy mortgage-backed debt in the open market. The Fed this week boosted its Treasury auctions to bond dealers by $25 billion, loaned $85 billion to the insurer AIG, and quadrupled the amount of dollars foreign central banks can auction to $247 billion. Paulson today said the government will buy illiquid assets from banks' balance sheets and insure money-market mutual fund holdings.



Deficit Widens



"The odds of the deficit becoming enormous are certainly there," said Nils Overdahl, a bond fund manager in Bethesda, Maryland, at New Century Advisors, which oversees $500 million. "I suspect you will see issuance at a variety of maturities."



The deficit will likely widen to $650 billion in fiscal 2009 because of the U.S. rescue of Fannie and Freddie, analysts at JPMorgan Chase & Co. wrote in a Sept. 12 report.



Over the next decade, the gap between spending and receipts will swell to $5.3 trillion, Goldman Sachs Group Inc. analysts wrote Sept. 10, revising a previous forecast of $3.6 trillion. The non-partisan Congressional Budget Office forecast a record $438 billion deficit for 2009 on Sept. 9.



"The deficit will soar to enormous proportions," said Lou Crandall, the chief economist at Wrightson ICAP LLC in Jersey City, New Jersey. "Even before this week's events, estimates based on visible factors were pointing to a deficit above $500 billion next year, with the prospect of billions of mortgage- backed securities on top of that."

See also this Bloomberg article.
Here, I want to return the issue I've brought up countless times before. We cut taxes, and we embarked upon a war of choice, and in addition to the opportunity and fiscal costs, this constrained our range of actions for the future. Even if you thought the Bush tax cuts of 2001 and 2003 "benefitted" the US economy on net, we know that the war in Iraq has cost on the order of $653 billion nominal dollars from FY03-FY0-09 [2] — in current dollars that's even more given inflation. Those dollars could have been spent fixing the financial system. Now, we'll have to either borrow or tax to to finance the operation.
So, if you wanted the McCain extension of the Bush tax cuts, and the additional $1.3 trillion tax cuts, then you might wonder about the impact on US borrowing rates. If you were hoping for more domestic initiatives, perhaps to give tax relief to the lower and middle income households, or to invest in infrastructure, the borrowing constraints will be more binding than they otherwise would have been.
Perhaps that's obvious, but sometimes in the midst of crisis, the obvious bears repeating. Here's a picture to illustrate the budget balance outlook pre-intervention….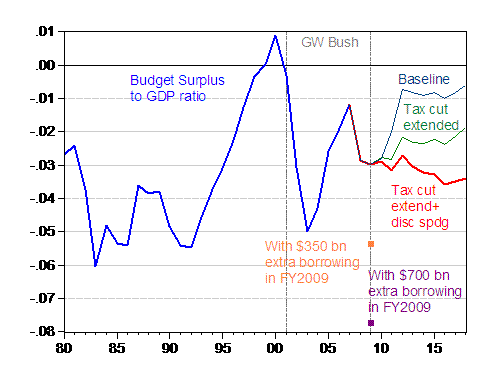 Figure 1:
US budget surplus to GDP ratio actual (blue), baseline under current law (dark blue), balance if EGTRRA and JGTRRA made permanent (green), balance if EGTRRA and JGTRRA made permanent and nominal discretionary spending except Iraq/Afghanistan grows with nominal GDP (red). Adding in $350[$700] billion borrowing (orange square [purple square]). Source: Author's calculations based upon
CBO, The Budget and Economic Outlook: An Update (September 2008)
Table C-2 and
Table 1-8
[xls], and author's calculations.
The purple square is just for illustrative purposes. If you think the Treasury will only have to borrow $350 billion in FY2009, then the orange square is relevant. Further, if we're lucky (and Brad Delong is right), in future years we will recoup all and more of these outlays, so the deficit will be smaller than otherwise. But, in the short run, we'll have to take a hit (of unknown magnitude) now and hope for the best.
Excellent reading as the weekend progresses: Doug Elmendorf, h/t Free Exchange.
Update, Saturday, 9/27 6:36am: See this post from WSJ RealTime Economics about the budgetary implications of the rescue plan.
Technorati Tags: , subprime,
Fannie Mae, Freddie Mac,
and
deregulation, Office of Thrift Supervision, and tax cuts.