…is repudiation of the no-nothing-ness of the past. From Bloomberg:
Dec. 7 (Bloomberg) — President-elect Barack Obama said the nation owes its military veterans "a sacred trust" and named retired four-star General Eric Shinseki to make the U.S. Department of Veterans Affairs "a 21st century" system.


"No one will ever doubt that this former Army chief of staff has the courage to stand up for our troops and our veterans," Obama said at a press conference in Chicago, held on the anniversary of the 1941 attack on Pearl Harbor. "No one will ever question whether he will fight hard enough to make sure that they have the support that they need."



Shortly before the 2003 U.S. invasion to oust Iraqi dictator Saddam Hussein, Shinseki told Congress it would take several hundred thousand troops to stabilize postwar Iraq, more than then-Secretary of Defense Donald Rumsfeld had estimated.



Rumsfeld roundly rejected Shinseki's assessment, insisting the effort could be accomplished with a U.S. commitment of no more than 150,000 troops. He also cut short Shinseki's tenure as chief of staff, which critics of the Bush administration said was punishment for Shinseki's testimony.

Rumsfeld himself later resigned his post, his reputation damaged by the failure of U.S. planning for the invasion's aftermath and the subsequent violence. As of Dec. 4, a total of 3,395 U.S. troops had been killed in action in Iraq and 30,852 had been wounded.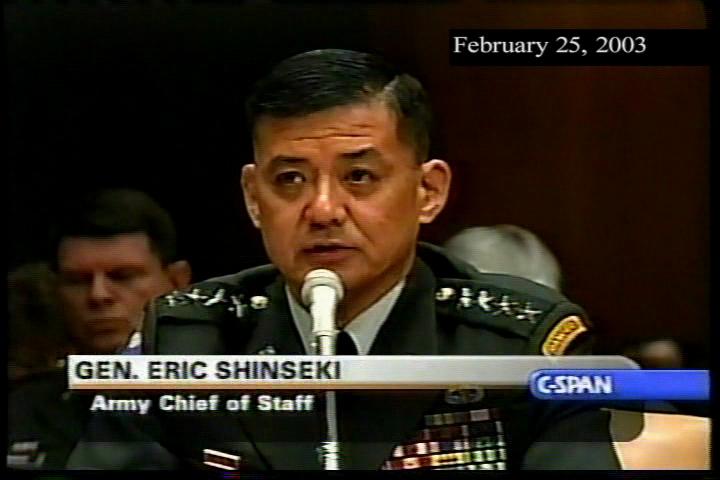 General Shinseki revealing his estimates of several hundred thousand men for the required complement to occupy Iraq. Senate hearing, February 2003; posted in "The Wartime Economy and Tax Policy: So Shinseki was right" (January 10, 2007).

While this is not an economics issue in and of itself, it does relate to economic policymaking. Many of the critics of Obama's choices for his economics team have centered on the fact that some of the choices were in the Clinton Administration, or have been associated with the centrist wing of the Democratic party, and hence could not represent "change" (e.g., [0]). But I think this all misses the point. The "change" we need is not so much ideological in nature, but the return to policy authority of people who have expertise, and are willing to look to past experience and (most importantly to me) analysis to make their judgments about how best to proceed — in economics as well as in issues of war and peace. So I'm happy with the developments thus far (on my previous posts on Shinseki vs. Rumsfeld and the Iraq debacle, see: [1], [2], [3]).
In other words, just like it probably takes more than a hundred thousand troops to stabilize a country the size of Iraq, it probably is true that the elasticity of labor supply and capital is insufficient to yield a tax revenue increase that yields a net tax receipts gain, in response to a permanent tax rate cut holding all else constant (in other words, extreme supply side nostrums [4]
belong in the trashbin along with the Rumsfeld doctrine).